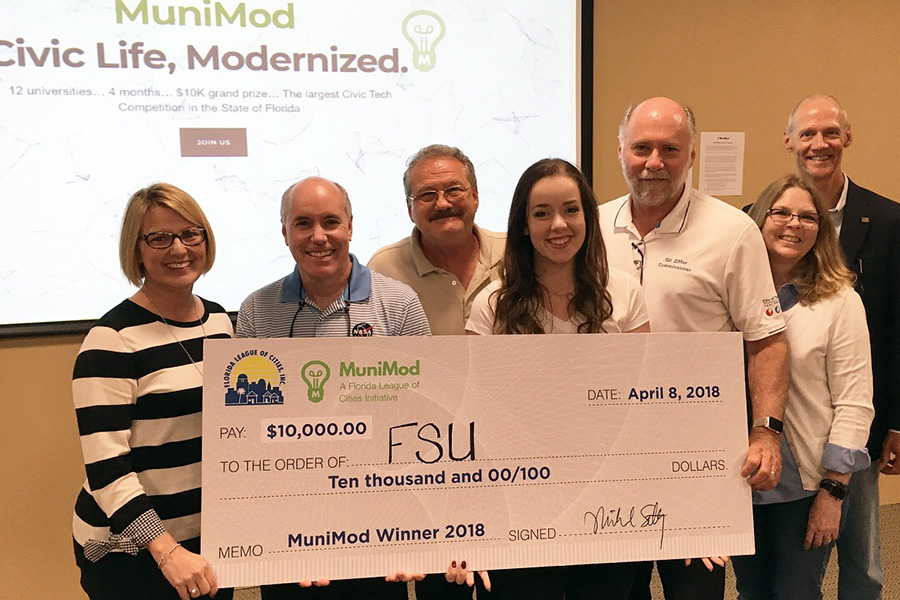 A Florida State University student team placed first in the MuniMod, Florida's largest civic tech competition to date, by developing Social Safe, an app to reduce intimate partner violence.
The hackathon-style event was hosted by the Florida League of Cities in collaboration with Domi Station April 7-8 in Orlando.
Students were tasked with applying their problem-solving skills to find innovative ways to better their communities on a range of issues that local governments face, such as crime prevention and managing emergencies. Participants worked alongside advisers in order to refine the app and develop a pitch.
"Many cities tend to look at the way we deliver services the same way we have for some time," said FLC President and Tallahassee City Commissioner Gil Ziffer. "But when we have fresh eyes — which is what all of these students are — coming up with new ideas, we realize there are things we simply have not thought of. These competitors are creating things to change the way government operates for the next 20 years."
FSU senior Molly Cloonan, who won the $10,000 first-place prize, competed alongside 11 other teams from universities across the state of Florida. This is the second consecutive year FSU has won the MuniMod competition, with Safebriight taking first place in 2017.
"I was so grateful to represent FSU after all of the amazing opportunities it's given me throughout the years, specifically the Jim Moran School of Entrepreneurship," said Cloonan, an economics major, who developed the winning app. "It was truly an honor to have been chosen to compete and wear my garnet and gold throughout the competition."
Social Safe is a safety app with a GPS feature set to reduce intimate partner violence by empowering potential victims to reach out to friends and family in a secure way before a situation escalates. In doing so, the app includes functions designed to alert local law enforcement and provide crucial information through text messages that allow the potential victim to be located while gathering audio and video evidence of the incident.
"I was motivated to create the app by all of the amazing women around me and in the media who have suffered tremendously from incidents of sexual assault," Cloonan said. "I created Social Safe to offer a way for young women to utilize their existing social networks to help increase their personal safety and stay connected."
Cloonan also recently received the most scalable business award through the Jim Moran School of Entrepreneurship's InNOLEvation Challenge with Social Safe.
She plans on using the $10,000 prize money to continue making improvements to the app.
"My vision for Social Safe is that it will change lives for young women to help them stay safe, give families a sense of comfort knowing that their children are being protected by my app and raise awareness of the overwhelming issue of sexual assault," Cloonan said. "I want to make Social Safe as great as it can be."