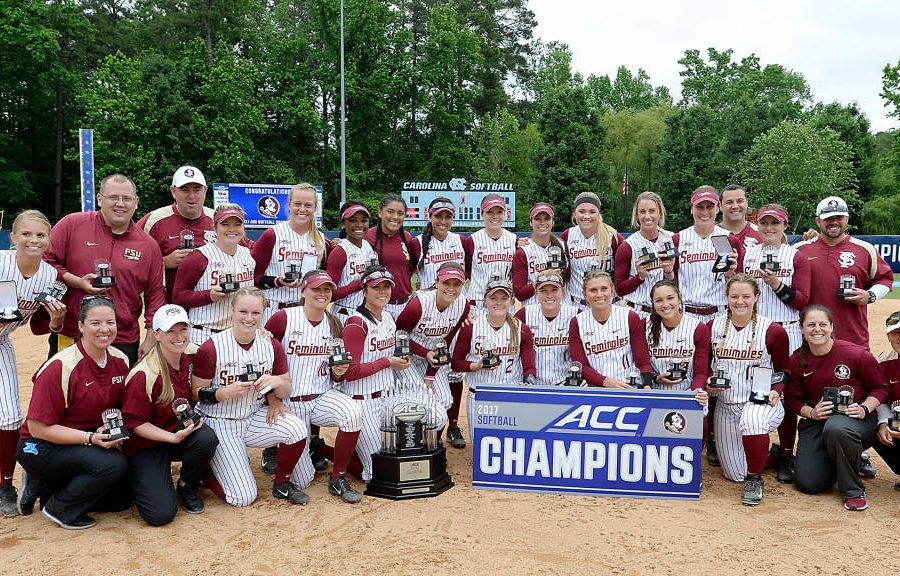 Completing an undefeated season against ACC teams, with 24 wins in the regular season, along with three more in the ACC Tournament, No. 4 Florida State (51-6-1) earned the 2017 ACC Championship with a 4-3 win over North Carolina (38-19) Saturday afternoon at Anderson Stadium in Chapel Hill, N.C.
It marked the 15th ACC Championship for Florida State and the fifth under FSU head coach Lonni Alameda (2011, 2014, 2015, 2016, 2017).
The Seminoles placed five players on the 2017 ACC All-Tournament Team – Anna Shelnutt, Carsyn Gordon, Jessica Burroughs, Meghan King and Tournament MVP Dani Morgan. The freshman left fielder batted .750 for the weekend (6-for-8) with a triple, two home runs, five RBI and five runs scored.
"Consistency," said Alameda, when asked about the program winning its four straight title. "That's something that you talk about getting buy-in from your program from your staff, to your players, to your recruits, and the standards that you set, and not waver in them. I think over time if you have pretty good success you have some standards that are very consistent within juniors and seniors to sophomores and freshmen and your staff, too. It speaks loudly to the consistency our culture and our program."
The game started out as a pitcher's duel between FSU's Jessica Burroughs (2017 ACC Pitcher of the Year) and UNC's Brittany Pickett (2017 ACC Freshman of the Year) as the game was scoreless until the fourth inning.
Burroughs retired the first 10 batters she faced and recorded five strikeouts over that span, including striking out side in the second inning. UNC's hit by Taylor Wike in the top of the fourth inning was nearly caught by Ellie Cooper on a leaping attempt in shallow right, falling out of her glove as she landed.
Pickett limited the FSU offense to just one baserunner through the first three innings, allowing a single to Anna Shelnutt in the third inning, before Jessica Warren hit her 21st home run of the season to lead off the Seminole fourth inning.
Sydney Broderick continued the inning with a walk and came in to score on a two-out, RBI triple by Dani Morgan to make it 2-0 Florida State.
Warren opened the Seminole sixth inning, reaching second base on a UNC fielding error, but quickly came in to score on a two-run home run by Alex Powers, her 10th of the season, to give the Noles a 4-0 lead.
Burroughs had faced just one over the minimum through six innings before Wike led off the UNC seventh with a single through the right side. After a strikeout, an infield single and a fly out, North Carolina was down to its last strike before Katelyn Shifflett cut the lead to 4-3 with a three-run home run to center.
Meghan King entered to pitch for Burroughs and got her second save of the season, striking out Pickett to end the game. Burroughs gave up three runs on four hits with zero walks and eight strikeouts to improve to 25-4 on the season.
Pickett took the loss and moved to 21-8 on the year, giving up five hits, four runs, three earned with a walk and two strikeouts.
The Seminoles return home as a likely host for the Regional round of the 2017 NCAA Softball Championship on May 19-21. The complete bracket will be announced during the NCAA Selection Show on Sunday, May 14 at 10:00 p.m. on ESPN2.