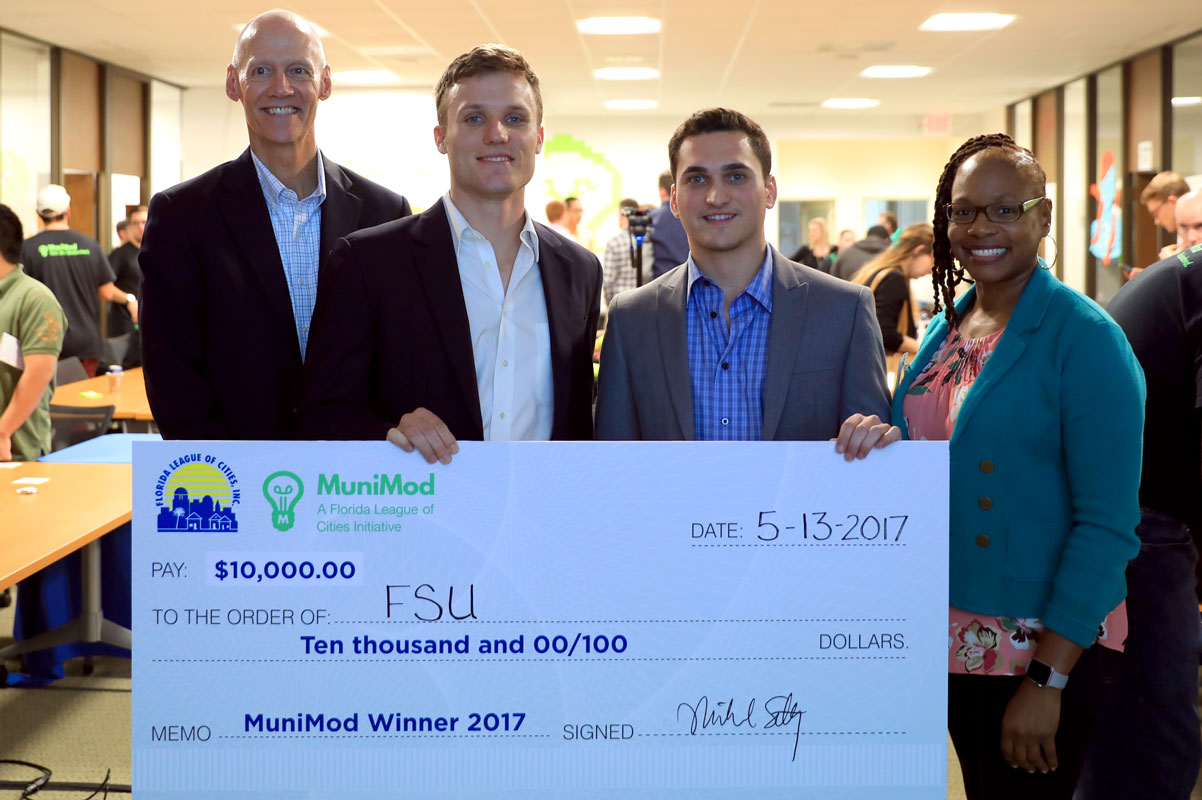 Florida State University students Tucker Russ and Maxwell Brecher are really on a roll with their innovative business Safebriight.
Russ and Brecher, students in the FAMU-FSU College of Engineering, won their second business competition this year — and another grand prize of $10,000 — at the MuniMod Hackathon hosted by the Florida League of Cities and business incubator Domi Station in Orlando last weekend.
FAMU-FSU College of Engineering Dean J. Murray Gibson praised the students for embracing and pursuing entrepreneurship.
"We love to see our engineers learning how to design solutions to problems and as entrepreneurs, they learn how to bring these solutions to market," Gibson said. "It's a great synergy between business and STEM, which the Jim Moran School of Entrepreneurship and FSU's entrepreneur-in-residence program fosters. We're proud of Tucker and his team."
MuniMod attracted students from across Florida in a variety of fields, including electrical engineering, public administration and computer science. The event, described as the largest civic tech competition in the Southeast, challenged teams of students from 10 universities to brainstorm solutions for tough problems confronting cities.
Russ and Brecher presented their pitch for Safebriight to a panel of judges that included civic tech experts and municipal leaders. The business offers cities a faster, easier and more effective solution to fixing street lights. Judges loved their business model.
Russ said the MuniMod competition prompted him to expand his vision for Safebriight because, previously, he focused his marketing efforts on private-sector firms. Now, he's pursuing deals with public utilities.
"The public utility sector is just as important as the private sector," Russ said. "The great thing about Safebriight is it allows me to target both public and private sectors. That paves the way for more opportunities and gives me new insights on both markets."
The MuniMod Hackathon was demanding, both physically and intellectually. Students worked through the night to craft the most inventive solutions for municipal government.
"What Florida needs now is a generation of young minds invested in the success of their communities," said Susan Haynie, president of the Florida League of Cities and mayor of Boca Raton. "This competition created an opportunity to connect with these future leaders and help them start their journey toward improving cities, towns and villages."
MuniMod challenged teams to develop fresh ideas for issues with infrastructure, utilities, public outreach and civic engagement.
"Tucker is a great example of how FSU continues to connect student entrepreneurs across all disciplines so they can grow and increase their skills," said Wendy Plant, director of the Center for Student Engagement at the Jim Moran School of Entrepreneurship. "He has been very involved outside the classroom and we are very proud of all he has been able to accomplish this year."
Safebriight also earned the grand prize at the 2016-2017 InNOLEvation® Challenge in March. Russ and Brecher will compete Friday, May 19, in the 7th Annual Statewide Collegiate Business Plan Competition in Orlando.
About the FAMU-FSU College of Engineering
The Florida A&M University-Florida State University College of Engineering is a highly ranked engineering school that graduates students from two universities with overlapping but distinct missions. Bachelor's, master's and doctoral programs include biomedical, chemical, civil, computer, electrical, industrial/manufacturing and mechanical engineering. Our unique partnership of the leading public Historically Black College or University (HBCU) and one of the nation's top-100 research universities enables us to deliver state-of-the-art research and innovation-based engineering education to the most diverse student population of any nationally ranked school. Our students enjoy the opportunity to work with more than 100 corporations on internships, and four out of five have a job or are in graduate school within six months of graduation. To learn more, visit www.eng.famu.fsu.edu.
About the Jim Moran School of Entrepreneurship
In December 2015, Florida State University announced the creation of the nation's largest interdisciplinary, degree-granting school of entrepreneurship, the Jim Moran School of Entrepreneurship, as part of a major gift from Jan Moran and The Jim Moran Foundation. Students will participate in traditional case study learning along with innovative hands-on application and experiences. Students accepted in the inaugural 2017-2018 class will graduate with a Bachelor of Science or Bachelor of Arts in entrepreneurship.