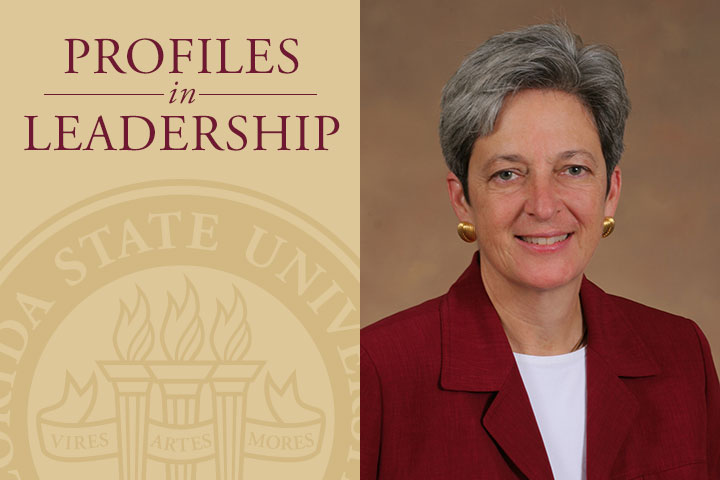 When Nancy Marcus arrived at Florida State University in 1987, she didn't have plans to stay very long.
Thirty years later, the oceanographer-turned-administrator has left an indelible mark at FSU — as a pioneer in her field, as a role model for women in STEM and as the dean of the Graduate School for the past 12 years.
"I love Florida State. I think I've contributed to it, but certainly Florida State has provided me with some wonderful opportunities," Marcus said.
A native of the Northeast, Marcus pursued her undergraduate degree at Goucher College in Baltimore, Md. She studied biology and spent time in the marine field with stints at the Duke Marine Lab and the Bermuda Biological Station for Research.
"At the time, back in the late 1960s, the most likely path for women was to teach in the public schools," Marcus said. "But when I went to visit one of my college friends who was doing that, I realized that wasn't what I wanted to do."
Marcus returned to school, heading to Yale University where she would earn both her master's and doctoral degrees. She then completed post-doctoral work at the Woods Hole Oceanographic Institution on Cape Cod, Mass., eventually joining the facility's scientific staff for the next 11 years until the opportunity arose to come to FSU.
"Florida seemed like a ways away from what I'd been familiar with," Marcus said. "But I said, 'Hey, I'll give it five years and go somewhere else,' and here I am, 30 years later."
CHAMPION FOR DIVERSITY 
For the past three decades Marcus has contributed to the excellence that is Florida State University, first as a member of the Department of Oceanography, as it was called years ago, and then as the director of the FSU Marine Laboratory from 1989 to 2001.
At the same time in 2001, Marcus served as director of the FSU Women in Math, Science and Engineering (WIMSE) program. The program encourages team building, mentorship and hands-on STEM learning for female students. Marcus has been a constant champion for the promotion of women in STEM fields.
"I've loved my career. So, when you look around and don't see that many women, although things have changed a little bit over the years, you wonder why," Marcus said.
"I want to ensure they have the opportunities and experiences that I had because they were wonderful experiences. It goes for women, but it also goes for ethnic and racial diversity, which in many cases could be a lot better."
Marcus said diverse participation in the STEM fields is about more than just meeting a quota for the sake of a number. She said people from different backgrounds and experiences bring something to the table — new ideas and fresh perspectives.
"I think that's important," she said.
THE WELL-ROUNDED PROFESSOR
While juggling multiple leadership roles, Marcus' commitment to teaching, research and service did not go unnoticed. She earned the Robert O. Lawton Distinguished Professor award for the 2001-2002 school year.
The Lawton award, first presented in 1957, is the highest honor FSU faculty can bestow upon a colleague.
Marcus still remembers the day she received the call from then-president Sandy D'Alemberte.
"I thought, 'Oh my God, the president's calling me. That's not good.'"
For her, Marcus said the Lawton distinction honors the well-rounded professor at FSU.
"I think that's why it's meant so much to me," she said. "Research is very important — teaching is very important, working with students — but so is service."
MAKING A DIFFERENCE
While Marcus has loved her research and teaching, she's always looked for opportunities to serve her profession.
Over the years, Marcus has held membership in a number of professional organizations. She has fond memories of her time as president of the American Society of Limnology and Oceanography. In that organization, she began moving the group to focus not just on research networking, but also on the importance of teaching — specifically how to teach oceanography well and engage more students in the topic.
Marcus currently serves as the 2017 Chair of the Board of Directors for the Council of Graduate Schools, a group of about 500 universities in North America that operates as an advocate for the importance and value of graduate education.
While Marcus admits advanced degrees are not right for everybody, she says there is increased need for them in this so-called knowledge economy, whether it's getting a master's or a doctorate.
"Graduate education helps to improve analytical skills and articulate issues clearly and concisely both written and verbal," Marcus said. "At the Ph.D. level you're also trained on how to be an independent scholar. That prepares you for a wide range of opportunities in industry, government and nonprofits."
Looking forward, Marcus hopes graduate education stakeholders will do a better job highlighting all the opportunities for doctoral degree holders instead of being so laser-focused on guiding them toward the academic side.
In addition to managing the multifaceted Graduate School, Marcus has dedicated her career to advancing her profession and increasing opportunities for students.
She is most proud of creating the Fellows Society at Florida State.
The program is an interdisciplinary society that originally only accepted students who received fellowships administered by the Graduate School, but it was eventually expanded to accept any student who received external fellowships.
"Initially, we simply gave students a check and said good luck, have a great experience at FSU," Marcus said.
But considering the fellows were some of the best students to come to the university, Marcus knew the Graduate School had to do more. Now, the college provides interdisciplinary workshops that allow the fellows to interact.
A hallmark event for the Fellows Society is the annual spring forum in which the fellows come together to plan an event around a central topic, like climate change, wellness or diversity. They are responsible for putting together panels and inviting faculty, students and people from outside the university to bring different perspectives to a common topic.
"I'm proud of that because I believe the emphasis on interdisciplinary interaction and doing more for the student is critical," Marcus said.
Also under Marcus' leadership, the Graduate School created the Office of Graduate Fellowships and Awards, which assists students in articulating their interests and ambitions to help them identify and apply for external fellowships, scholarships, grants and awards. Since its establishment, the office has assisted hundreds of students in finding financial support to help them earn an advanced degree.
Marcus said her goal in starting the office was to help students simply realize that they're good enough to apply for the incredible grants and opportunities that are available to them.
Marcus hired Adrienne Stephenson as an assistant dean in the Graduate School and the director of the Office of Graduate Fellowships and Awards in 2015.
"My colleagues and I at the Graduate School are so thankful for Dean Marcus' leadership," Stephenson said. "I am passionate about inspiring, mentoring and challenging the next generation of leaders, and it's been clear to me during my time at Florida State that Dean Marcus shares those same passions."
NO REGRETS
Two years ago, Marcus was featured in an Oceanography Magazine article detailing her transition from scientist to administrator.
In the autobiographical piece, she described the major sacrifice she made to step up as dean.
"I remember that I had just been awarded a grant from the state of Florida to set up a facility to cultivate copepods (small crustaceans) at a large scale," Marcus wrote. "I declined the funding because I did not think I could manage the new project along with my responsibilities as dean."
While her career took a different turn, Marcus said she has no regrets about her time at Florida State University.
"I think being the dean gives you a very different perspective on the university," she said. "We get so narrowly focused in our own little world in our departments, which is OK, but this is a big wonderful university. There's a lot of excellence across the board. I think being dean of the Graduate School is one of those positions that affords you the opportunity to see that diversity and enjoy it."