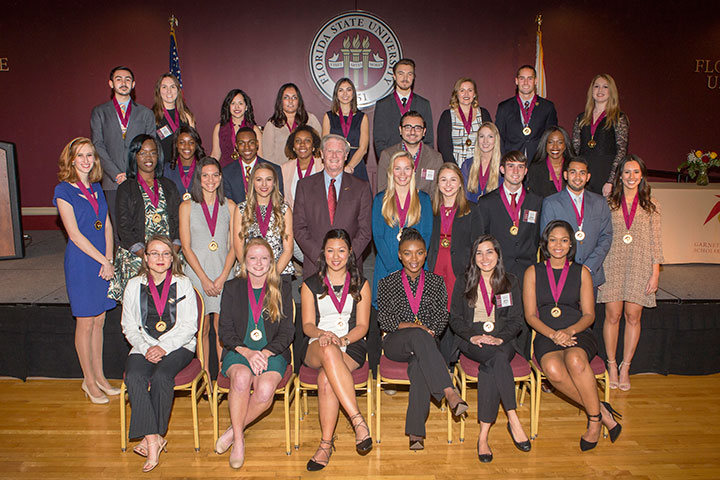 Florida State University welcomed 37 new inductees into the Garnet and Gold Scholar Society this fall.
Established in 2010, the Garnet and Gold Scholar Society facilitates involvement and recognizes undergraduate students who excel within and beyond the classroom in at least three of five areas: international experience, internship, leadership, research and service.
"We are so proud of this new group of inductees to the Garnet and Gold Scholar Society," said Mary Coburn, vice president for Student Affairs. "They truly represent the best of Florida State. This recognition of their involvement outside of the classroom — on campus and in the community — is well deserved."
To become an inductee of the Garnet and Gold Scholar Society, students must meet the engagement area criteria and submit a synthesis reflection project in their final semester before graduation. Participants are recognized at graduation and receive a designation on their official university transcript, both of which make the students more marketable to potential employers or graduate programs.
The students, all graduating seniors, were inducted into the Garnet and Gold Scholar Society during a special ceremony Dec. 8. The inductees, along with their hometowns and academic majors, are:
Atlanta, GA
Kayla Stovall, marketing
Belle Glade, FL
Esther Benette, mathematics education
Boca Raton, FL
Taihisha Alteme, family and child sciences
Caracas, Venezuela
Ali Mondini Boschetti, marketing
Fishersville, VA
Erica Snook, biological sciences
Fort Lauderdale, FL
Katherine Kinsela, music therapy
Sylvia Aycock, music education
Herndon, VA
Alison Datoc, psychology
Jacksonville, FL
Marcella Cavallaro, visual disabilities education
Lakeland, FL
Kelly Jackson, international affairs
Clark Rahman, business management
Live Oak, FL
Hunter Hamilton, biology
Miami
Nicolas Austin, history
Erica Elizondo, sociology
Raychel Feldman, psychology
Emily Nunez, mathematics
Miami Gardens, FL
Tammali Dawkins, retail merchandising and product development
Memphis, TN
British Solomon, public relations
Mineola, NY
Elm Mahlmann, choral music education
Naples, FL
Christina Go, civil engineering
Ocala, FL
Joe Borreca, social science education
Orlando, FL
BaShari James, B.A. music
Tiffany McGlinchey, media/communication studies
Rumit Mistry, biology
Palm Beach Gardens, FL
Alyssa Allem, biology
Palm Bay, FL
Chenise Johnson, editing, writing and media
Panama
Haniyah Naeem, finance
Panama City, FL
Nicole Diez, hospitality management
Pensacola, FL
Catherine Tran, retail management & marketing
Pittsburgh, PA
Erin Hajduk, English literature
Sarasota, FL
Natasha Voigt, retail management & marketing
Sebastian, FL
Lauren Browning, biology
St. Petersburg, FL
Kaylyn Fudge, sports management
Tallahassee, FL
Zach Pelham, finance
Tampa, FL
Anna Buntyn, human resource management
Jessica Whittington, psychology
Weston, FL
Juliana Benedetti, exercise science