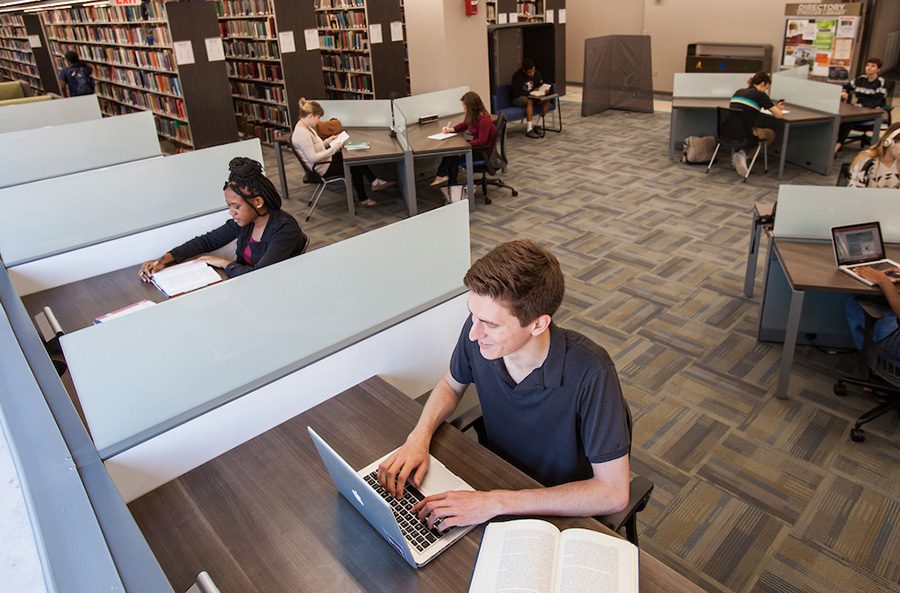 As Florida State University students begin cramming for finals in the coming days, they can study in comfort of the newly renovated Robert Manning Strozier Library.
The recently completed renovation project encompassed four floors and nearly 30,000 square feet of space. The improvements to the library's annex, built in 1967, included new ceilings, paint, carpet, furniture, air conditioning units and a new energy efficient lighting system.
"We're delighted with these upgrades, which look great and are far more functional for FSU students' needs," said Julia Zimmerman, dean of University Libraries. "We're especially grateful for the support from President Thrasher, who made this project possible."
FSU Libraries are open extended hours for finals week, which runs from Monday, Dec. 12, through Friday, Dec. 16. Last year, Strozier Library received more than 40,000 visits around the week of exams. As many, if not more, are expected this year.
Renovations included removing out-of-date tile ceilings and study carrels to make better use of the space and allow for more natural lighting. A variety of innovative new study furniture was added including desks with privacy partitions and built-in charging stations, personal study pods with privacy screens and study carrels available for checkout. Some of the furniture is intended to be moveable so students can configure it for group or individual study.
Renovations were made possible through extensive collaboration between university administration and campus facilities. University Libraries hopes to continue similar renovations to additional study spaces in Strozier Library in the future.
For more information, please visit lib.fsu.edu.