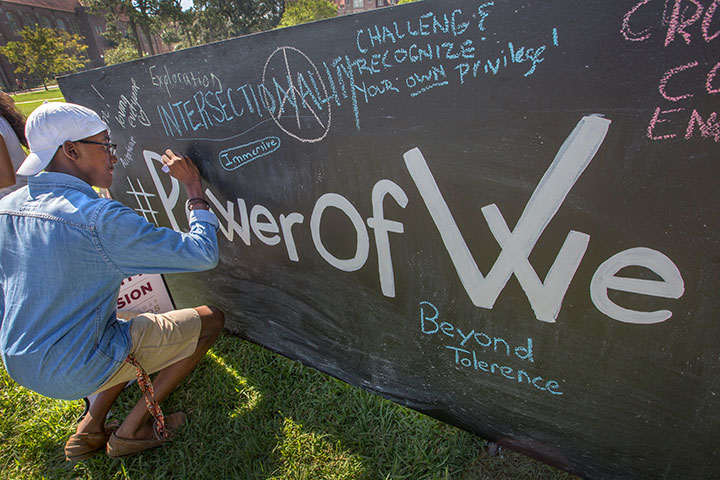 What are diversity and inclusion?
That was the question posed to Florida State University students at the #PowerOfWe campaign event held Tuesday Sept. 20, on Landis Green.
At the campaign's launch, students were invited to share their answers, take photos and mingle with each other to talk about diversity and inclusion on the Florida State campus.
"We are hoping that students will go back to their perspective groups on campus and really define what diversity is to them," said Gabbie Stratiotis, a junior majoring in nursing and vice chair of the campaign. "This campaign is looking to combine all those different versions of identity to create a campus culture to foster a spirit of unity and diversity."
Students were excited about the campaign's idea of stepping outside of their normal circle and connecting with others.
"It's really easy to stay within your comfort zone," said Ryan Nicholas, a senior majoring in economics. "But by getting out of that comfort zone, I feel like I could learn a lot more about myself. I love this initiative because it's important to be able to see things from a different perspective."
When asked why diversity and inclusion are important on a large campus like FSU, students said that it helps to feel unified as Seminoles while at the same time, share their differences.
"It's important because everyone is here together as a community to learn, and we have to respect one another," said Luis Millares, a freshman majoring in health and nutrition. "I'm really excited about this because it shows people that FSU isn't just one type of culture."
The Student Diversity and Inclusion Council launched the campaign, a newly formed student organization composed of student leaders in collaboration with the Office of the President and the Division of Student Affairs.
Other programs scheduled throughout the year to promote the vision of the campaign are:
Public Service Announcements: A promotional video PSA is scheduled to premier during halftime at the Clemson-FSU football game at Doak Campbell Stadium Oct. 29. These will be seen throughout the year at various athletic events.
Chalkboard Conversations: Features blank chalkboards in public spaces on campus encouraging students, faculty, staff and visitors to share what diversity means and why it matters to them.
The Longest Table @ FSU: Welcomes people from different campus circles to meet for an open-air meal at the heart of campus.
Conversation X: Serves as a bimonthly opportunity for students to discuss pressing social issues and transform dialogue into action through service projects.
For more information, visit https://powerofwe.fsu.edu.