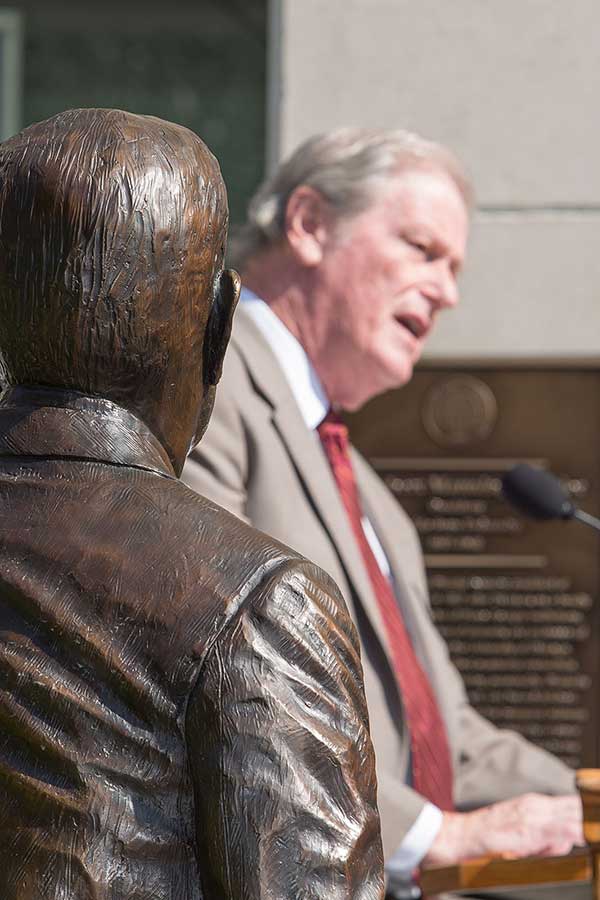 Robert Manning Strozier was remembered as a visionary leader who set Florida State University on track for greatness during a ceremony Thursday, Aug. 25, to dedicate a statue of his likeness.
About 50 people attended the ceremony held on a steamy morning on the steps outside Strozier Library — also named in his honor — where the statue is located.
Even though his time as the university's sixth president was short (1957-1960), Strozier's visions were far-reaching and his impact on the students was great.
President John Thrasher, Dean of FSU Libraries Julia Zimmerman and Strozier's children spoke during the event.
"This is a magnificent sculpture that really does embody our father's grace and dedication to learning," said Anne Strozier, Strozier's youngest child and only daughter. "We love the statue."
Strozier dedicated his life to education as a faculty member and administrator at three Georgia institutions and the University of Chicago, as well as two and half years as FSU university president.

"The statue and the library endure as a very impressive testament to the legacy of our father and we're very touched by that," said Robert Strozier Jr., Strozier's first-born child.
He had big plans to make FSU a "great university," but his time was cut short when he unexpectedly passed away in 1960 from a heart attack while giving a speech in Chicago.
An FSU alumna, Deanna Morris Dorvillier, remembered Strozier as "witty and friendly," and that he was the first faculty member that took the time to speak with her when she was a shy freshman in 1957.
Dorvillier's nephew, Mark Feely, read her prepared comments at the dedication ceremony.
"He was one of the first adults on campus to put me at ease. His enthusiasm in the university and in us as students made us feel privileged. He was a respected leader and incredible educator."
Students can visit with the past president's statue, created by FSU Master Craftsmen's Studio, every time they go visit the main campus library as he sits, friendly and inviting.