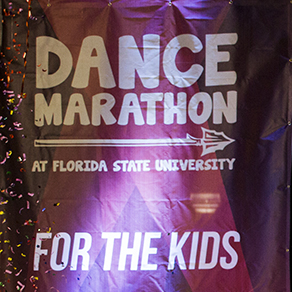 Florida State University's annual Dance Marathon event may only last 40 hours during one weekend of the year; however, the preparation leading up to the event is a yearlong affair.
This year's Dance Marathon — the 21st annual at FSU — will take place Friday, Feb. 26, through Sunday, Feb. 28, at the Donald L. Tucker Civic Center.
Dance Marathon is an annual event organized solely by students to raise money for sick children at Shand's Children's Hospital and the Children's Miracle Network. At the annual event, thousands of volunteers and dancers stay on their feet for 20 hours straight, in two shifts for a total of 40 hours, to symbolize the struggle of sick children everywhere.
Last year, FSU Dance Marathon raised more than $1 million thanks to the thousands of volunteers who dedicate an entire year to the largest student-run philanthropy event at Florida State.
"It takes a full calendar year to prepare for Dance Marathon," Dance Marathon Executive Director Felicia Steinberg said. "In the week immediately following the event, applications to be a part of the next executive team become live so that planning can begin as soon as possible. Not only does building a team happen a year beforehand, but fundraising begins right away."
As the executive team builds, so does the fleet of volunteers ready and willing to spend the next 12 months contributing to this massive event. According to Steinberg, the total reaches about 3,500 each year including 1,800 dancers, 350 student leaders and 300 volunteers who raise money prior to the dancing.
Each individual on this executive team has their own duties and responsibilities from handling public relations to getting bottles of water for the dancers.
"We are one big family and accountability is a big factor," External Relations Director Alyssa Martinez said. "Our leadership team, made up of our Executive Board, CORE team and our captains help continue our year long movement and help run our main event."
Steinberg rallies for these children from sun up to sun down leading up to Dance Marathon's main event.
"Many days are filled with meetings from noon until 10 at night, where other days are filled with spending time with the families who we support, answering emails and trying to get some studying in," Steinberg said.
The whole team is tasked with getting the word out about Dance Marathon in order to reach their funding goals. Steinberg described multiple marketing strategies used by the team, all of which have one main goal: present their mission to anyone and everyone.
"This often involves events on campus so that we maintain a physical presence with students throughout the year, large social media campaigns, involvement with multiple Recognized Student Organizations and Greek Life, partnerships with businesses within the Tallahassee area, developing relationships with Athletics, creating videos and a strong online presence, and more," Steinberg said.
Once the event actually begins, it's the job of more student volunteers to provide more than 40 hours of activity to keep people energized and on their feet.
According to Martinez, this can be anything from a bounce house to coloring books and life size board games to their famous 10-minute line dance that goes on every hour — all while wearing a neon tutu, of course.
For more information on Dance Marathon at FSU, visit http://www.dmfsu.org or take a look at a video of last year's record-breaking event.