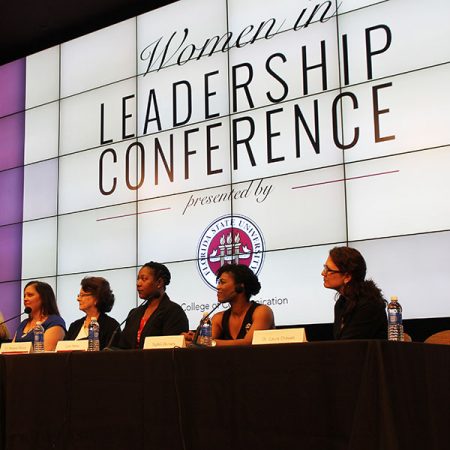 Nearly 400 people are expected to attend the third annual Women in Leadership Conference at Florida State University — a free event designed to teach young women about the challenges facing female leaders and techniques to overcome those hurdles.
In three years of existence, the event has almost doubled in size. This year, approximately 200 female college students will have an opportunity to network with and ask career advice from about 175 women business and community leaders.
Panelists will discuss the fundamentals of their success and how they navigated their journey to leadership roles in their chosen professions during the opening session.
The event, sponsored by Florida State's College of Communication and Information, will take place from 4 to 7:30 p.m. Monday, Feb. 22, at the Augustus B. Turnbull III Florida State Conference Center.
Noted panelists include Sally McRorie, provost and executive vice president for Academic Affairs at FSU; Laura Osteen, director of the Center for Leadership and Social Change at FSU; Margaret Massey, CIO at Spring Hill College; Alieria Peterson, chief marketing officer and owner of Go Bright Marketing; Courtney Duran, senior consultant for Health Operations, Booz Allen Hamilton; and Felicia Jordan Jackson, associate professor of communication at FSU.
Following the opening discussion, the conference will break into smaller panels of local women leaders, where college students can ask questions about topics like entrepreneurship, networking and leadership in the community.
For a detailed schedule, visit https://cci.fsu.edu/women-in-leadership/.