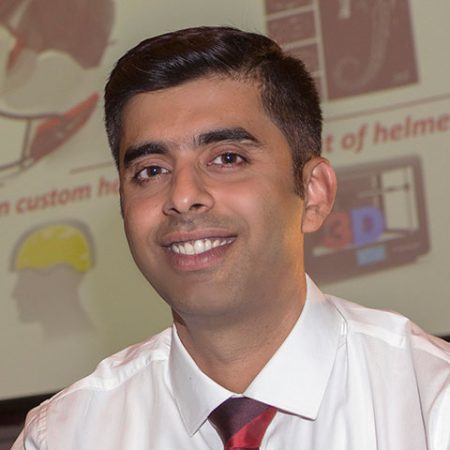 A Florida State University graduate student has won the Three Minute Thesis regional competition at the annual meeting of the Conference of Southern Graduate Schools for the second year in a row.
Aniket Ingrole, a doctoral student in the Department of Industrial and Manufacturing Engineering at the FAMU-FSU College of Engineering, won first place in Florida State's Three Minute Thesis competition in November for his research on building better concussion-mitigating football helmets.
This month, Ingrole became the second consecutive FSU graduate student to win the regional Three Minute Thesis competition. The competition challenges doctoral students to present their voluminous dissertations to an educated but non-specialist audience in three minutes.
CSGS is made up of 200 graduate schools across 15 states in the southern region of the United States. Out of 38 finalists, including participants from University of Virginia, Texas A&M University, University of Georgia, and Auburn University, Florida State's Ingrole placed first overall.
"Aniket exemplifies excellence and we are so proud of him," said Nancy Marcus, dean of the Graduate School. "It is so important to do quality research, but it is also necessary to explain the value and importance of the research, not just to one's peers, but to a diverse and wide audience."
In his presentation, "Bio-Inspired Structures for Custom Manufacturing of Safer Helmets," Ingrole talked about how he looked to nature to understand how animals such as rams and woodpeckers can take repeated blows to the head and how sea horses stay flexible. He then described how 3-D printing technology could replicate materials that mimic animal physiology to protect humans when playing sports such as football.
"I feel proud to have represented FSU in a regional competition," Ingrole said. "Getting an opportunity to explain your research and its importance to everyone is rare, especially at this level. Given the seriousness of the problem of concussion in sports like football, my research focuses on player safety by designing a helmet that would be able to sustain various impacts. I would consider it to be a success if my efforts in this field are able to make players lives better and the sport of football a lot safer."
Ingrole, a native of Kolhapur, India, first came to the United States in 2007 to earn his master's degree at FSU.
Kimberly Smith, a doctoral candidate in Florida State University's neuroscience program, won the first place award in the 2015 Regional Three Minute Thesis (3MT) Competition for her presentation on "A Behavioral and Molecular Examination of 'Umami' Taste."