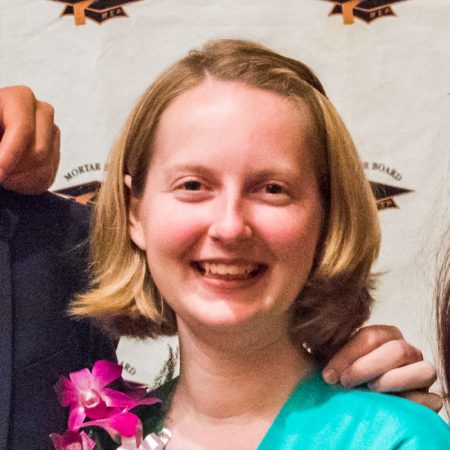 The advisor for Florida State University's Mortar Board chapter received the 2015 Excellence in Advising Award from the Mortar Board National College Senior Honor Society at the organization's national conference in August.
Katie Cloud was one of four people to receive the award, presented annually to advisors who have provided exceptional support to help a Mortar Board chapter achieve its goals. More than 300 advisors each year are eligible for consideration.
Cloud was nominated after serving as the FSU chapter's advisor for just one year.
"I kind of took it on not 100 percent knowing what I was getting into," Cloud said. "It was a lot of fun and I think we all learned a lot from each other. Being able to see those students excel in areas outside the classroom, and help the campus and the community as a whole — it's been a great experience."
Katie Cloud displays her Mortar Board Excellence in Advising Award flanked by Torchbearer chapter members Nicholas Arias and Michelle McCullers (far left and right) and section coordinator Brandon Caten.
Since becoming involved with the organization, Cloud spearheaded a food drive for Second Harvest Food Bank during the holiday season, and ran Reading for Leading — a book collection campaign for local elementary schools — right out of her office. She has already begun planning a spring fundraiser for the St. Baldrick's Foundation, which raises funds for childhood cancer research.
Michelle McCullers, the senior biology major who wrote Cloud's nomination, talked about how Cloud spends her down time reading chapter documents, serves as a treasurer figure for the chapter, and provides a support system for chapter members' personal and professional development.
McCullers actually submitted the nomination one day late, but then sent a follow-up email to the national office apologizing for her tardiness and writing how much she believed Cloud should win the award.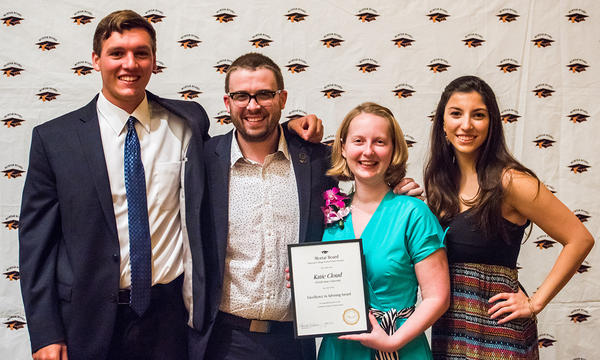 "I wasn't sure if they would accept the nomination but it all worked out really well and she deserves it," McCullers said. "The chapter was so small when I first joined and to see how much it's grown speaks to the fact how good of a person and how good of an advisor Katie is. She's such a supportive figure and you can see this measurable amount of growth and improvement over the course of just one year."
This year, Florida State also was one of 36 collegiate chapters that earned the Gold Torch Award, a national distinction that is conferred upon the most exceptional chapters of Mortar Board. Recipients must excel in all areas of chapter operations while promoting scholarship, leadership and meaningful service to their institutions.
Cloud's main focus for the upcoming year is to work on expanding the Torchbearer chapter and continuing to develop its long history on campus.
"Mortar Board started at FSU a long, long time ago when the university was still Florida State College for Women," Cloud said. "We're just trying to really revitalize the chapter. We're focusing on increasing our membership and getting more active in the FSU community."
Mortar Board is the premier national honor society recognizing college seniors for outstanding achievement in scholarship, leadership and service. Since its' founding in 1918, more than a quarter of a million members have been initiated at 231 chartered chapters across the nation. Mortar Board provides its members with opportunities for continued leadership development, promotes service to colleges and universities and encourages lifelong contributions to the global community.
The FSU Mortar Board inducts eligible students every fall and spring. Students must be a junior, by credit hours, and have a minimum 3.0 GPA or be in the top 35th percent of their class —whichever is higher. Students interested in applying can contact Katie Cloud at kcloud@fsu.edu.