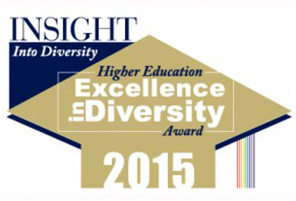 Florida State University's ongoing mission to promote diversity and inclusion has earned national recognition for the second consecutive year.
Florida State received the Higher Education Excellence in Diversity (HEED) Award from INSIGHT Into Diversity magazine, the oldest and largest diversity-focused publication in higher education.
"We are proud of our commitment to make diversity and inclusion a priority at Florida State University," said President John Thrasher. "We want all of our students to receive the best education they can, and a diverse environment can make a difference in the growth of our students. This award is a testament to our students, faculty and staff, who put our policies and programs into action everyday on campus."
Florida State's comprehensive plan to unite efforts for diversity and inclusion began in 2007-2008 with the vision of being a university and workplace of choice. As a part of that plan, the university's Diversity and Inclusion Council was created. The council is championed by a steering committee composed of division vice presidents and senior staff members.
"This award is a tremendous honor as it signifies Florida State University's commitment to creating a diverse and inclusive work and educational environment," said Renisha Gibbs, assistant vice president for human resources. "It lets us know that we are moving in the right direction as we continue to develop strategies, partnerships and initiatives to better recruit, graduate, develop and retain diverse faculty, staff and students."
The HEED Award measures an institution's level of achievement and intensity of commitment in regard to broadening diversity and inclusion on campus through initiatives, programs and outreach; student recruitment, retention and completion; and hiring practices for faculty and staff.
As a recipient of the annual HEED Award, Florida State will be featured in the November 2015 issue of INSIGHT Into Diversity magazine.
Among the steps the university has taken to implement this continuing initiative to improve diversity and inclusion are:
Website: A dedicated website that is a hub for diversity and inclusion resources, such as lists of leadership programs for students, faculty and staff, best practices for recruitment and retention of faculty and community outreach efforts.
Reading List: A list of selected books on the topic of diversity available to the entire campus community through Florida State's libraries.
FSU Supplier Diversity Program: A program designed to enhance the university's supplier base that reflects the wide diversity of our students, faculty, staff and community by expanding relationships and enriching economic opportunities for small, minority and women-owned businesses.
Entrepreneurial Boot Camp for Veterans (EBV) Program: Cutting-edge, experiential training in entrepreneurship and small business management for veterans disabled as a result of their service supporting post-9/11 operations.
FSU Global Pathways Certificate Program: A program that exposes FSU students to rich cultural learning experiences.
Seminole Allies and Safe Zone Training: A program that provides free workshops offered regularly throughout the school year to students, faculty and staff. The trainings are presented as an intensive three-hour, in-house session focused on allyship and contemporary issues related to the LGBTQ community.
Cultural Competency Certificate: A certificate program to assist graduate students and teaching assistants in creating credible and meaningful practice through diversity and inclusion. This certificate focuses on enhancing awareness, knowledge and skills in the area of multicultural competence to work more effectively with diverse student populations and issues related to diversity.
Diversity and Inclusion Certificate Series: The training certificate creates an opportunity for faculty and staff to explore strategic areas around diversity and to learn more about the ways in which they can assist in creating a welcoming and inclusive campus for all.
commUNITY Dialogue Series: A speaker series that aims to identify key faculty, staff and community members to join FSU students in a discussion surrounding identity and current events.
Employee Resource Groups: FSU currently has three employee resource groups for faculty and staff — the Latin@ Faculty Advocacy and Resource Group, the Black Faculty and Staff Organization andtheLGBTQ+ Faculty Staff network.In addition, the university created an Affinity Group Guide to provide general information for employees interested in establishing anaffinitygroup and as a resource for anyaffinitygroup that currently exists. A publishedframework is also available to assist individuals who are interested in establishing a new group.
Policies: A focus on making sure the university's policies and programs are aligned with the university's philosophy of diversity and inclusion to ensure there are no barriers to optimal performance.
For more information about the 2015 HEED Award, visit http://www.insightintodiversity.com. For more information on Florida State's diversity and inclusion initiatives, visit: hr.fsu.edu/diversity.