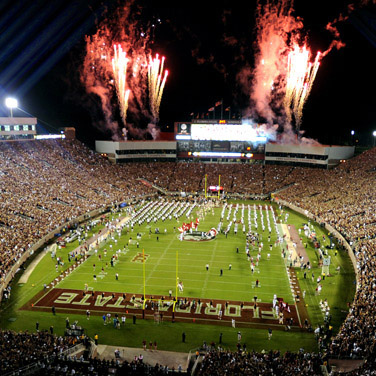 Florida State University announced today some changes in the traffic patterns fans are accustomed to on football game days, as well as additions to the list of items that will be banned from the stadium.
"We are all excited about the first football game of the season, and we want fans to have a safe, enjoyable day," said David L. Perry, the university's assistant vice president for safety and chief of police."That's why it is extremely important that they pay attention to the changes this year."
The first home game will be Saturday, Sept. 5, when the Seminoles take on the Texas State Bobcats. Kickoff is at 8 p.m.
GETTING THERE:
TRAFFIC INSTRUCTIONS: Fans parking around the stadium are encouraged to use the following roadways to gain access to parking on and around FSU's campus, AND are encouraged to add extra time for travel as some changes are in place this year for traffic.
•From the north, use Stadium Drive or Macomb Street to Pensacola Street.
•From the east, use Pensacola or Gaines streets.
•From the west, use Pensacola or Tennessee streets to Stadium Drive.
•From the south, use Lake Bradford Road.
Pensacola Street will not be reversed after the game. Traffic leaving the game toward the east will use St. Augustine toward Monroe Street. Side streets may be utilized as needed by motorists. State and local law enforcement officers will staff roadways surrounding the stadium before and after home games to assist with traffic flow.
As with last year, Lake Bradford will be used to direct drivers south away from the stadium.
SPIRIT EXPRESS SHUTTLE: This bus service, operated by the City of Tallahassee/StarMetro, originates at the Donald L. Tucker Civic Center. Fans should park at the Tucker Center or in nearby state parking garages.Tickets will be on sale at the Tucker Center ticket office and riders will be provided with an arm band. Service begins two hours prior to kickoff. Separate Spirit Express vans for special needs fans are available at FSU Garage No. 5, corner of Macomb and Copeland streets, and at FSU Garage No. 6, corner of St. Augustine and Dunwoody streets. Fares collected on the vans require correct change or a ticket. No open containers or coolers are allowed on Spirit Express buses or vans. Service ends one hour after the end of each game. For rides back to the Civic Center after the game, riders must present their arm bands to the driver for boarding. This year, St. Augustine Road will not be shut down for the Spirit Express, and buses will travel along with the normal flow of traffic.
GAME DAY DISABLED PARKING: In an effort to meet the needs of fans with disabilities, FSU's Office of Transportation and Parking Services (TAPS) coordinates the Disabled Parking Program (DPP) for home football games. All parking spaces for fans with disabilities within proximity of the stadium and additional spaces in a nearby parking garage are reserved for participants in the DPP. TAPS pre-assigns these spaces to individuals who have submitted an application to participate in the program; location priority is based on need. To aid patrons with mobility impairments, Dial-A-Ride accessible shuttles and Gotcha carts are available to transport patrons to and from the garage and their gate. See TAPS's DPP website (http://transportation.fsu.edu/event-parking/football-game-day) for an application.
Fans who are part of the disabled parking program and parked in Lot 9 can be dropped off by gates D and H.
For fans with disabilities who do not reserve parking prior to game day, TAPS provides unreserved offsite ADA parking at the St. Augustine Street Parking Garage. A Dial-A-Ride-accessible shuttle is available to and from the St. Augustine Street Parking Garage and gates D and H at the stadium beginning five hours prior to kickoff. The shuttle runs continuously until an hour after the game ends.
For additional information on the DPP, Dial-A-Ride, Gotcha or unreserved ADA parking, contact TAPS at (850) 644-5278 or taps-dpp@fsu.edu.
PREGAME PREP
PARKING LOT AND BUILDING CLOSURES: University police will begin closing parking lots and roads and posting "no parking" signs in various locations around the stadium at midnight prior to game day. Fans who park in prohibited areas, such as reserved parking lots, landscaped areas and sidewalks, are subject to being ticketed or having their vehicles towed. In addition, the stadium will close at 2 p.m. on the day before each home game. Champions Way will close at 5 a.m. on game day, and Coyle E. Moore Athletic Center will be closed to fans two hours before each home game.
AT THE GATE
NEW THIS YEAR: Despite construction at the south entrance of Doak Campbell Stadium across from the Unconquered Statue, gates F and G will remain open. The path for patrons to get to these two gates will be to the west for Gate F and to the east for Gate G.
Gate G will open 1 hour before kickoff — or — after the Marching Chiefs use it to access the stadium. All other Gates will open up 2 hours before kickoff as usual.
Visiting team Will Call gate will move from the west side of Gate H to the east side of Gate J.
Inside the stadium, ramps to the "300" series/level of seating have been removed. Patrons who have seats in this area will need to enter the stadium via the middle concourse ramp and then walk up the steps to their section.
Game seatback sales have been mostly moved to the outside of Gates C, D/E, and H/J. There will be a limited number of seats for sale in the traditional locations inside of Gate B, C, D, H, and K.
Seminole Student Boosters will be offered a "Fast Pass" option at Gate M. Security remains the same, however Seminole Student Boosters will have a designated lane for entry.
Information areas will be set up at Gates C and K to further assist patrons 30 minutes prior to kickoff until the end of the game.
• Selfie-sticks and unmanned aircraft systems, or drones, will be prohibited inside — and in the airspace over — Doak Campbell Stadium.
• In addition, standing personal transport vehicles also are banned.
COLOR-CODED ID WRISTBANDS: Upon request, the FSU Police Department will provide color-coded ID wristbands marked with seat and contact numbers for children, the elderly and people with disabilities in case they become separated from family members before, during or after the game. Fans interested in this service can stop by the police substation located at Gate C.
CONTROLLED ENTRY AT ALL GATES: To make entry into the stadium more orderly and efficient, fans will be funneled into one of two lines: Those "with bags and purses" and those "without bags and purses." Allowable bag sizes of 12-by-6-by-12 will be strictly enforced. For fan convenience, "bag-size boxes" will be provided to measure against upon approach to the gates and in selected areas of parking lots closer to the stadium.
ELECTRONIC SIGN BOARDS: Electronic message boards over gates C, F, J and K provide fans with information or emergency messages related to weather or possible game delays.
FSU STUDENT TICKETING/ENTRY/SEATING POLICIES: Students can print their tickets at home or, if they need assistance, visit the Student Ticket Issues Booth at the west end of the Howser Stadium (baseball) Ticket Office. These printed tickets, along with the students' ID cards, will gain students access through any gate except Gate A. The student entry/seating policy is "as easy as 1-2-3":
•ONE seat per person; first come, first served; no saving seats.
•The stadium opens TWO hours prior to kickoff.•All lines outside the gates open THREE hours prior to kickoff — no lines may form before that time; no tailgating in line; no holding places in line for friends.
PUBLIC ENTRY POLICIES: For security purposes, all football tickets have barcodes that must be individually scanned before each fan is permitted to enter the stadium, and no one will be allowed to re-enter the stadium once he or she exits.
INSIDE THE STADIUM
APPROVED ITEMS AND PROHIBITED ITEMS: Fans are allowed to bring the following approved items:
•Medically necessary items, such as oxygen and required wheelchairs.
•Empty water bottles to fill at water stations inside the stadium.
•Small amounts of food for accompanying infants and toddlers.
•Purchases from the Seminole Sports Shop, such as bottled beverages with approved decals.
•Keys, wallets and cell phones.
•Bags that do not exceed the size limit of 12-by-6-by-12.
•Stadium seats, as long as they do not have arms.
The following items are prohibited:
Alcohol or illegal drugs
Weapons or explosives
Umbrellas
Food or beverage from outside the stadium
Coolers or containers, including cans, cups and bottles
Bags larger than 12-by-6-by-12, including backpacks, camera bags and diaper bags.
Chairbacks with arms
Chairbacks larger than a single seat
Standing personal transport vehicles
Artificial noisemakers (whistles, bells, air horns, etc.)
Video equipment, tape recorders, cameras with lenses longer than 6"
Sticks, selfie-sticks, poles, flags or signs
Laser pointers
Laptops
Pets (except special service animals)
Strollers
Skateboards
Beach balls or other airborne objects
Unmanned aircraft systems, or drones, flying in the airspace above Campbell Stadium.
'SEE SOMETHING-SAY SOMETHING' TEXT/PHONE LINE: For fans who witness a security concern, the "See Something – Say Something" text and phone line will be available. Text the word "fsufan" along with a message and your location or seat number to 35842. Standard text-message rates apply. Fans also may call (850) 645-JERK (645-5375) if there are any problems with unruly or abusive behavior in their section. Law enforcement officers will respond promptly and take appropriate action.
MISCELLANEOUS
ASSISTED LISTENING DEVICES: Florida State University offers Assisted Listening Devices (ALD) for people with hearing impairments. The ALD amplifies the message broadcast over the main scoreboard to a receiver worn by the person. To obtain an ALD, individuals will need a valid driver's license or State ID (used as collateral). For additional information or to check out the device, stop by the FSU Police Sub-Station located outside Gate C.
GARNET AND GOLD GOES GREEN: Set to begin its 11th year, the Garnet and Gold Goes Green recycling program has collected 162 tons of recyclable materials. The program and its volunteers will have recycling stations set up in the lots surrounding the stadium, at stadium entrances and in concessions areas. Additional City of Tallahassee trash cans will be set up along major walking routes to the stadium to help keep game day litter free.
GOLDEN GREETERS: Members of the Extra Point Club — an auxiliary of Seminole Athletics — will serve as Golden Greeters, welcoming fans as they enter the stadium. As "customer service liaisons" between the Athletic Department and the public, the Golden Greeters will be available to answer fans' questions until roughly 30 minutes after kickoff.
GOLF CARTS: Golf carts without official authorization and required placards will not be permitted in or around the stadium.
MARCHING CHIEFS PREGAME SHOW: The Marching Chiefs' pregame "skull session" is a public rehearsal held at Dick Howser Stadium two hours prior to kickoff. During the rehearsal, each section of the band plays a song for the crowd, followed by the full band playing the "FSU Fight Song" and selections from that day's half-time show.
MISTING STATIONS: Fans will be able to cool off at misting stations inside the stadium near gates B, E, H and L during the first two home games (Texas State, Sept. 5; and University of South Florida, Sept. 12).