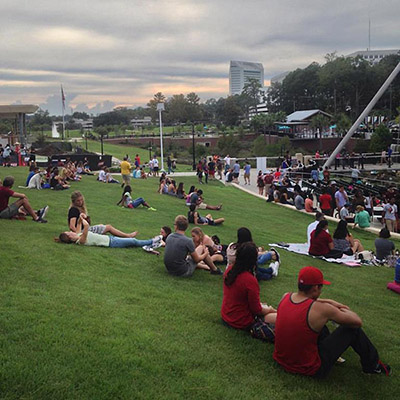 New students became familiar with Tallahassee locals, activities and businesses at the first-ever Experience Tallahassee Festival at Cascades Park Saturday, Aug 29.
Organized by the Town and Gown committee in an effort to facilitate the student-community relationship within the City of Tallahassee, the event attracted a large crowd of students and families.
Students from Florida State University, Florida A&M University and Tallahassee Community College were encouraged to get acclimated to their new home with bus tours every 30 minutes to that gave directional guidance around Tallahassee.
Along with Town and Gown, free food and fun was made possible through the FSU, TCC and FAMU Student Activities Centers, who sponsored the event. The Florida State Marching Chiefs and Florida A&M's Marching 100 also entertained the crowd with lively performances.
A variety of groups showcased what Tallahassee has to offer outside of campus, like local recreational activities and community organizations. Community exhibits were perched around the park, including the St. Francis Wildlife Association, the Leon County Public Library and Tallahassee Clay Arts.
Local restaurants had the opportunity to impress students with their unique and delicious cuisine. Several of Tallahassee's famous food trucks attended the event including Big Easy Snowballs, Diva Pops, Street Chefs and Lasang Pinoy. Free food was available to any new or returning student with a valid student ID.
Other highlights included free climbs on a rock climbing wall and a booth for students to register to vote in the upcoming election.
The event also announced a mentor program for any students looking for guidance through school, work and life. Tallahassee locals signed up to volunteer to mentor any students attending college in the capital city.
Cascades Park hosts major Tallahassee events, including concerts and charity functions, throughout the year. For more information on events and activities for students, click here.