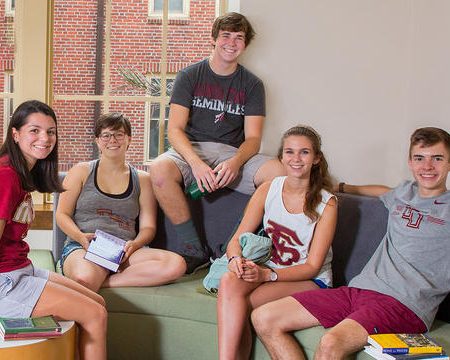 When Julia Jensen arrived at Florida State University last fall, she wasn't sure what to expect as a member of the university's first class of Presidential Scholars.
Jensen, a political science major from Clemson, S.C., knew Florida State's premier undergraduate merit scholarship program would be academically rigorous. But what she didn't anticipate was the program's incredible support for its students as they explore their talents outside of the classroom.
"It's a really great way to be challenged academically in higher education right off the bat," Jensen said. "I really enjoyed the push to succeed my freshman year. They helped us look for opportunities to do more and be more."
Assistant Dean of Undergraduate Studies Craig Filar said the goal of the program is to provide a premier scholarship for promising leaders and engaged scholars on FSU's campus.
"These young men and women have extraordinary potential to make an impact, which we are just beginning to see realized through the various collaborative and individual projects they are conducting on campus, in our community and around the world," Filar said.
EDUCATIONAL ENRICHMENT The highly competitive Presidential Scholars Program attracts the best and brightest students to the university, but it doesn't just concentrate solely on academics.
The program also offers support to help students shape their entire college experience. In addition to covering most tuition expenses, the scholarship provides $12,000 for educational enrichment opportunities such as international experiences and service learning projects.
"The money for tuition is great, but what helped me the most is probably the honors advising and the enrichment funding," said Will Boose, a sophomore from Naples, Fla.
With the help of that funding, Boose, who is majoring in history with a minor in Spanish, spent 25 days in Nicaragua teaching English this summer.
"That was really important for me because it made me think about a career working abroad or being a professor," Boose said. "And, there was no cost to me because the funding was amazing."
MORE THAN ACADEMICS Scholars also benefit from faculty mentoring, leadership training and regular group meetings.
"I didn't expect the program to be as close to a family as it was after the first year," Jensen said. "We all really support each other by going to each other's concerts and sporting events. I didn't expect to have such great friends through the program."
One way the program creates that cohesiveness is by having the class come up with a public service initiative as a group.
"This project challenges the first-year students to think about service, leadership and scholarship and how they are all intertwined, as they create an impactful initiative, relying on each scholar's strengths for its success," Filar said.
The first cohort developed a mentorship program at the Carter Parramore Academy in Gadsden County to help students who are struggling with academics.
"At the beginning we weren't sure which way to go because it was a very open-ended challenge," Jensen said. "It helped us come together as a group because it was a very organic process coming up with the project."
The Presidential Scholars assisted high school students with homework and engaged them in learning with different activities.
"It was a great experience because it took us out of the Florida State and Tallahassee communities and made us aware things that were going on in surrounding communities," Jensen said.
To build upon what they learned during the service project, the first cohort will read "South Side Girls" by Marcia Chatelain about the migration of young African-American women from the South to Chicago in the early part of the 20thcentury in search of better lives and education. They will use the books to engage in salon discussions with different faculty members during the course of this year, culminating with a public lecture with the author in March.
CONTINUING THE LEGACY The first group of scholars is hoping that sharing their experiences will help continue to recruit some of the most talented students in the country.
Boose, who met with potential new scholars on their interview weekend last year, even had the idea of starting an official organization of FSU students who are dedicated to recruiting top scholars and visiting high schools to tout the program. The provost's office supported the idea and the Academic Recruitment Organization was born.
"I want to try to get a pipeline going of the best students coming to FSU," Boose said. "I love the recruiting side of athletics, and thought, 'Why can't we do that for academics?'"
THE NEW CLASS The second cohort of 26 Presidential Scholars arrived on campus Aug. 18 for a two-day leadership summit, where they did team-building exercises, interacted with speakers and discussed the development of the group's public service initiative.
This year's group of freshmen chose Florida State over several of the top universities in the nation, including the University of North Carolina at Chapel Hill, Clemson University, Boston College, the College of William & Mary and Emory University.
"When I was looking for scholarships, this one looked really intriguing," said Erin Wadhams, an evolutionary biology and creative writing major from St. Johns, Fla. "What really struck me was the $12,000 for enrichment —I'd never seen anything like that at any other program. When I came for the interview weekend I realized it was something I really wanted to do. What I really liked was how everyone was so personally strong."
Mae Espinosa, a political science major from Miami Lakes, Fla., also was impressed with the program during interview weekend.
"I really liked the atmosphere," Espinosa said. "I wasn't expecting all of the activities we did. I thought it was going to be a little bit more dry."
Espinosa wanted to challenge herself academically and FSU's program fit the bill.
"When I saw the honors advising and all the academic support and resources you get, I was really interested," Espinosa.
The new cohort has only been together a short time and they already have the feel like a cohesive group.
"It feels more like a family than an academic program, and we have only been here for a few days," Wadhams said.
Wadhams also noted that her predecessors were very welcoming and willing to help the new students —something she hadn't seen at any other school.
As the program continues to grow, that first cohort is happy to continue to offer guidance to incoming and prospective students.
Boose recommends the new class be open-minded about the different opportunities at Florida State.
"I didn't expect to do many of the things I ended up doing," Boose said. "Don't have a concrete idea about what you want to do and be open to what FSU throws your way."
Jensen's advice to the new class was simple: "Take advantage of the environment you're in. You're at a great university that has a lot to give."