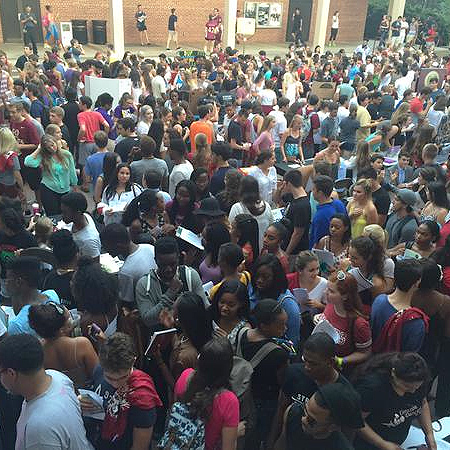 Students scoped out the latest clubs and organizations at the annual Florida State University Involvement Fair Tuesday, Aug. 25, at the Oglesby Union.
The fair — one of the most popular events of Seminole Sensation Week — attracted over 200 clubs and almost 3,000 students. Both new and returning Seminoles packed the courtyard to check out everything from honors societies to intramural sports teams for the fall semester.
"I think the involvement fair is very organized and the way it reaches students early in the semester is fantastic," said Cary Anne Bame, a senior and president of the Pre-Physician's Assistant Club. "We won't have the pre-health involvement fair before our first meeting, so the fact that we have this is extremely helpful. People are getting a lot of information."
Students flocked around tables to find out what each club had to offer. Each booth informed students of their mission, meeting dates and time commitment for the semester as organizations recruited new members.
"We need a lot of people, and so far we have around 50 people signed up," said Katherine Hanley, a sophomore and member of the women's rugby team. "The fair has definitely helped get a lot of members."
FSU organizations offer everything from opportunities in community service and activism to just making a few friends. Clubs in attendance included the Surf Club, Quidditch Team and Students Toward Ending Poverty.
The fair also showcased clubs that may have gone unnoticed without the event.
"We've had some people come by and say they didn't know who we were, so it's really helpful that this event exists and we have a table," said Shannon Kaplan, a member of the Ethical Food Association. "Our club is something people don't think about unless it's presented to them."
The fair also hosted the Student Activities Center Open house, as well as a Taste of Seminole Dining, which provided free samples of the best meals and snacks available at campus restaurants and dining halls.
With hundreds of diverse campus organizations on hand, there was a group or club for every interest.
If you missed the event and are interested in getting involved on campus, click here for the list of clubs and more information.