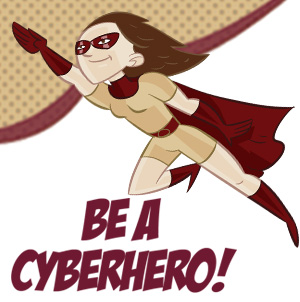 The evil cyber villains are at it again. Phishing emails are multiplying and passwords are being stolen every day. Only a cyberhero can stop them now.
This October, Florida State University once again joins a national effort to promote cybersecurity by participating in National Cyber Security Awareness Month. This year's campaign, sponsored by the Information Security and Privacy Office (ISPO) within Florida State's Information Technology Services (ITS), brings back the "Be a Cyberhero" theme and challenges students, faculty and staff to make it their mission to stay safe online.
"Cybersecurity is one of the most important lessons we can teach our students, as well as faculty and staff," said Mike Russo, director of Information Security and Privacy. "In today's online culture, understanding the risks and knowing how to practice safe habits online is essential for a successful education and career."
Phishing attacks and other cyber threats are on the rise, making it increasingly important to educate the university on safe online practices. The 'Be a Cyberhero' campaign raises awareness of basic cybersecurity responsibilities —including how to outsmart phishing attacks — and empowers users to learn how to use the Internet safely and securely at work, school and home.
During October, ISPO is hosting several campus events and initiatives to endorse cybersecurity. A few easy ways to get involved include:
Locally, Florida A&M University joins Florida State in the cross-campus campaign. FAMU also will be supporting the national campaign and encouraging students, faculty and staff to sign the Cyber Pledge.
For more information on cybersecurity awareness, visit the ISPO website at security.fsu.edu/Cybersecurity.