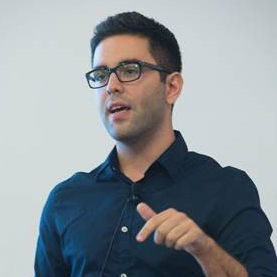 A Florida State graduate student took home first place from the American Chemical Society's Chem Champs 2015 competition for his engaging video explaining how polyelectrolytes work.
Hadi Fares, a doctoral student in Professor Joseph Schlenoff's lab, created a video that equated polyelectrolytes to Kobe Bryant. The video asks what is large, electric and something we can't live without.
Joking that 'no, the answer is not Bryant,' Fares went on to explain that the answer is polyelectrolytes or large repeating units of polymers that are found in everything from Gatorade, soaps, shampoos and even toasters. He also noted that Gatorade is from FSU's rival, the University of Florida.
"I wanted to have a good balance between cultural references — FSU versus UF and Kobe Bryant — and the science of polyelectrolytes used in thin films that we do in our lab," Fares said. "I have to say that I learned a lot about Youtube science videos during the making of the video and after I posted it. I also feel that I learned a lot throughout the competition about talking to a big audience and about science communication."
Hadi produced the video as part of a competition sponsored by the American Chemical Society. The competition consisted of four rounds. For the first round, participants had to make a three-minute video about their research. Round two required a video about a chemical element.
After making it through the second round, eight semifinalists flew to Washington D.C. for presentation and improvisational training, after which they presented to ACS staff who chose four finalists.
The four finalists then made brand new videos, which spurred Fares' take on polyelectrolytes, and made a presentation at the national ACS conference in Boston earlier this month. Twenty percent of the final ranking depended on how many views and likes finalists received for their video.
Fares' video garnered 2,865 views and 62 likes.
"Winning this means a lot because I learned so much from the different stages of this competition," Fares said. "I had the chance to meet a lot people at ACS, which has a great science communication team that was very helpful. We also received advice from the judges before the final presentation. I was also happy because the largest component of the final score came from Youtube views and audience voting. I think I couldn't have done it without the support from my friends and the FSU chemistry department and community in general."
In addition to a trophy, Fares will receive a trip to Washington D.C. to do more work with ACS communications staff and attend a briefing on Capitol Hill. He was also invited to join the National Academy of Sciences' Science & Entertainment Exchange, a part of the academy connecting entertainment industry professionals to science and engineers to create accurate science storylines in television and film.
Schlenoff, Fares' professor at FSU, said the department was proud of Fares for diving head first into the competition.
"Our discipline has too few scientists who can clearly explain to the general public the difficult, groundbreaking work we do every day," Schlenoff said. "We are proud that Hadi's ability to communicate science matches his skills in the lab."
Department of Chemistry Chair Tim Logan echoed Schlenoff's comments.
"Communication skills are critical to a successful scientific career," Logan said. "In addition to explaining ourselves to our colleagues and bosses, we have an obligation to explain to the general public, who funds most of the basic science research in this country, what we are doing and how this science is beneficial to society. Contests like this increase awareness of the need to communicate and motivate scientists to hone their skills in this area."