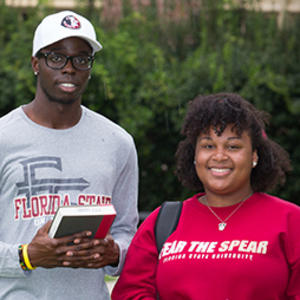 When Florida State University President John Thrasher asked his staff to create ways the university could be more responsive to the needs of traditionally underrepresented students, the Center for Academic Retention and Enhancement —better known as CARE — took the challenge.
With support from the president and help from Housing and Admissions, CARE added about 100 spots over last year's numbers, enrolling a program-record 400 first-generation students to participate in its seven-week Summer Bridge Program from June 19 to Aug. 8. In essence, the program gives students a head start on their college experience by providing comprehensive orientation and academic support.
"We had so many students on the waiting list that we knew the demand was there," said Tadarrayl Starke, director of CARE. "Everyone worked extra hard to make sure we could accommodate the larger numbers, and we were able to do so."
The Summer Bridge Program allows CARE students to get acclimated to college life on a smaller scale to ease the transition into the fall semester, when about 40,000 students are bustling around FSU's campus.
A record number of students enrolled in the CARE Summer Bridge Program this summer.
The cohort of 400 students is divided into smaller groups managed by peer ambassadors, most of who have already gone through the program.
"The campus gets even smaller and they can connect with students from similar backgrounds," Starke said. "They also get to hear from an ambassador who was most likely in their shoes a few years ago."
Because CARE students are the first in their families to attend college, the Summer Bridge Program gives them an opportunity to learn about Florida State and the demands of college life.
"It also eases their parents' concerns and helps their parents understand they are in a very supportive atmosphere," Starke said.
As an added bonus, this summer's CARE students were the first to reside in the newly constructed Dorman Hall.

"It's been an amazing experience for them," Starke said. "A lot of the parents saw their students in a brand-new residence hall, and they really felt like Florida State rolled out the red carpet for their kids and made them feel at home and welcome."
CARE students participate in academic support and campus engagement workshops on topics like organization, test preparation, safety, library research, and health and wellness, while taking seven or eight credit hours during the summer session.
"We help them become more familiar with campus, understand how to study at a college level and get used to the academic rigor of Florida State," Starke said. "We try to give them information to become very well rounded, and how to be a great student and a great leader at FSU."
Nydia McSwain, a native of nearby Quincy, Fla., who plans to major in social work, knew Florida State was the place for her after participating in FSU's Upward Bound six-week summer enrichment program while she was a student at East Gadsen High School.
"I always knew that college was an option but that I would need help," McSwain said.
CARE has allowed McSwain to test out the waters academically and given her the confidence to speak out more in classes. But her favorite thing about the program is the connections she has made.
"We have a brunch every Thursday with the staff and we sit down with them and have a talk about whatever is on our minds," McSwain said. "I also have been able to connect with people outside of CARE. If it wasn't for CARE maybe I still would have connected with these people, but it probably wouldn't have been as soon. It has given me a boost."
James Turner, from Orlando, Fla., found out about CARE through his guidance counselor at Boone High School. As a foster child, Turner bounced between group homes and had been involved with a lot of programs through different agencies and organizations. When he arrived at FSU for the summer, the business management major wasn't completely convinced CARE wasn't just another "empty" program.
"I've never experienced a program that was so consistent and lived up to its name as well as CARE has," Turner said. "They did what they said they would do. CARE makes me feel comfortable and safe."
He especially appreciates the support from CARE's student ambassadors.
"My confidence is a lot higher because our ambassadors are guiding us through with no judgment," Turner said. "They are all very neutral. There's no favoritism."
Before students buckled down for the last week of the summer session, CARE held an awards banquet July 30 to recognize students for finishing strong. But CARE's support does not end with the conclusion of the semester.
CARE students remain active with the program the entire time they are at Florida State. They attend general meetings, learn about opportunities for undergraduate research and national fellowships, and continue building life skills throughout their collegiate careers.
The program is a proven success. Since 2000, almost 4,900 students have enrolled in the program. During the 15-year span, the average GPA after CARE students' first term of college is 3.15, and the first-year retention rate is 94 percent.CARE's graduation rate is 68 percent, more than three times the national average for students from similar backgrounds.
Numerous CARE students have distinguished themselves among the university's elite student scholars. Among them are current Student Body Vice President Iyanna Pierre-Louis and current FSU Senate Pro Tempore Derrick Scott.
CARE students are also represented in various academic awards, including 2006 Rhodes Scholar Garrett Johnson, 2012 Fulbright Scholar Sandy Noel, 2012 Truman Scholar finalist Jesid Acosta, 2013 Moellership and Newman Civic Fellow LaShae Copeland, as well as six Benjamin A. Gilman International Scholarship Award recipients and 11 Global Scholars since 2012.