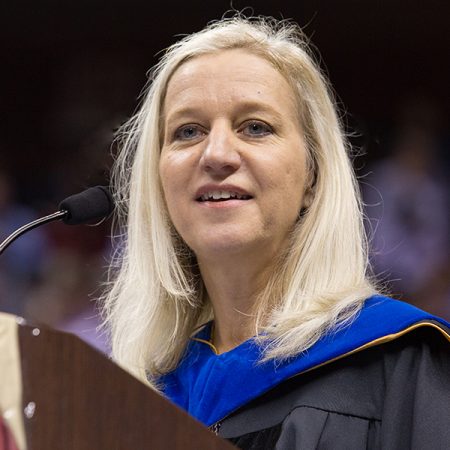 As Florida State University's summer commencement speaker Aug. 8, Gail Skofronick Jackson encouraged the graduates to use the principles of gravity to propel them along life's journey.
Jackson, a highly accomplished and well-regarded scientist who leads NASA's Global Precipitation Measurement Mission, has worked as a physical scientist at NASA's Goddard Space Flight Center since 2003.
"The value of knowing where, when and how rain and snow falls from clouds is extraordinarily important to sustaining life on our planet," Jackson said.
Rather than giving the graduates a lecture on rain and the water cycle, or even talking about the cool places she has been able to visit through her falling snow research, Jackson offered four guiding principles based on gravity to follow in life.
Law No. 1: Gravity teaches us to look for inspiration in unexpected places.
Sir Isaac Newton discovered gravity from an unpredicted observation of watching an apple fall from a tree, according to myth. For Jackson, a moment of unforeseen insight occurred during her junior year at FSU in an elective class called disaster management.
"The professor showed an image of a hurricane taken from a satellite to describe remote sensing. In the mid-80s, satellite imagery of that type was new technology," she said. "Because of that class I decided that wanted to deal with remote sensing of the Earth.
"So it wasn't an apple, but an image that inspired me," she said.
Law No. 2: Defy gravity. It can only hold you down if you let it.
"Defy your gravitational bonds," she said. "Use what you've learned at FSU to propel you to the next period of your life."
Law No. 3: In life, as in gravity, size matters. Gravity is stronger for objects with greater mass.
"Make yourself massive to have a bigger impact to your community," she said. "Find your passion and go with gusto. Make service to your environment, your profession and your community a priority. And to make yourself more influential, form teams of various communities to expand your reach locally, regionally or globally."
Law No. 4: Gravity links everything around it, and people can have the same effect, too. The closer that objects are to each other, the stronger their gravitational force will be.
"Obviously, it will be easier for you to make connections with like-minded people from communities you already belong to," she said. "But reach out farther away to add some diversity to your community."
Through her work at NASA, Jackson recognized that the Global Precipitation Measurement Mission would not have been successful without the interconnected contributions of many, from engineers and scientists to procurement teams, clean-up crews, security staff and cafeteria workers.
"My life, your life and all our lives are interconnected," she said. "Use that interconnectedness to your advantage. Stay interconnected and let gravity work for you."
Jackson earned a Bachelor of Science degree in electrical engineering, magna cum laude, from Florida State in 1986. She holds two degrees from Georgia Tech, a Master of Science, earned in 1987, and a doctorate, earned in 1997.
Of the 2,687 Florida State students graduating this summer, about 1,400 participated in the ceremony at the Donald L. Tucker Civic Center.