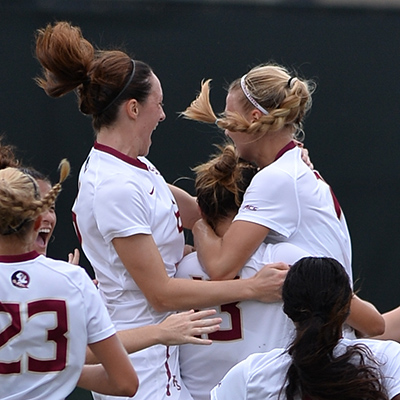 Entering the season on a school-record 21-game unbeaten streak and following the program's first National Championship in 2014, the Florida State women's soccer team comes in at No. 1 in the 2015 preseason poll from the National Soccer Coaches Association of America as announced on Monday.
It is the highest preseason ranking in school history and the 10th time overall that the Seminoles have been ranked No. 1 by the NSCAA. FSU spent eight weeks at No. 1 during the 2012 season and ended the 2014 season in the top spot. Florida State has also spent 45 consecutive weeks in the top 10 of the NSCAA poll dating back to November 8, 2011.
"It's great to be recognized for what we did last season, but this a new year with a new team," Florida State head coach Mark Krikorian said. "However, our objectives of competing at the highest level stay the same. We are excited to open preseason camp and continue training for the upcoming season."
Eight of Florida State's 18 regular season opponents – including five conference foes – are ranked in the 2015 NSCAA Preseason Top 25. The Noles will face No. 5 Texas , No. 8 Florida and No. 17 UCF before starting the challenging Atlantic Coast Conference schedule with No. 2 Virginia, No. 7 North Carolina, No. 9 Notre Dame, No. 13 Virginia Tech and No. 22 Clemson.
Since 2000, the Seminoles have made 15 straight trips to the NCAA Tournament, played in 13 'Sweet 16's' and advanced to the quarterfinal round 10 years in a row – the longest active streak in the nation.
Florida State opens the 2015 season on the road in Albuquerque, N.M., with the Lobo Invitational, taking on New Mexico on August 21 at 9:30 p.m. ET and Southern Cal on August 23 at 12:30 p.m. The Noles return for their home opener on August 28 as FSU welcomes Southeastern Louisiana for a match at the Seminole Soccer Complex at 7:00 p.m. Admission is free for all regular season home matches.
Follow Florida State soccer on Twitter (@FSU_Soccer) and like our Facebook page (Facebook.com/FSUSoccer) to keep up to date with everything about Seminole soccer.
2015 NSCAA Preseason Poll
1. Florida State (25 first-place votes)
2. Virginia (3)
3. Stanford (1)
4. UCLA (3)
5. Texas
6. Penn State
7. North Carolina
8. Florida
9. Notre Dame
10. Pepperdine
11. South Carolina
12. West Virginia
13. Virginia Tech
14. Wisconsin
15. Texas Tech
16. Kentucky
17. UCF
18. California
19. BYU
20. Washington
21. DePaul
22. Clemson
23. Kansas
24. Rutgers 25. Georgetown
Also receiving votes: Duke (42), Connecticut (33), University Of Southern California (27), Arizona State (22), Washington State (20), Marquette (20), Auburn (10), Michigan (10), Colorado (10), Northeastern (10), Santa Clara (9), Boston College (7), Missouri (6), Minnesota (5), Arizona (4), Maryland (4), USF (3), Texas (2), North Texas (2), Harvard (1), Furman (1), Oklahoma (1), Tennessee (1), San Diego State (1)