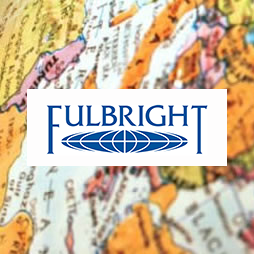 Ten recent Florida State University graduates will study or teach English around the world during the 2015-2016 academic year as part of the Fulbright U.S. Student Program.
The program offers grants for U.S. graduating college seniors, graduate students, young professionals and artists to study, conduct research and/or teach English abroad.
"Florida State is proud to have 10 students represent our university and our nation around the world as a part of the Fulbright program," said Craig Filar, Assistant Dean of Undergraduate Studies and director of the Office of National Fellowships. "This continued level of success demonstrates Florida State's commitment to preparing both our undergraduate and graduate students for impactful engagement on the global stage."
Four of FSU's recipients earned academic study/research grants to work on their own projects at foreign universities. Six of Florida State's recipients will participate in the English Teaching Assistant Program, which places Fulbright Fellows in classrooms abroad to provide assistance to local English teachers. The teaching assistants help teach the English language while serving as cultural ambassadors for the United States.
The academic research grant recipients are:
Carolina Alarcon , a doctoral candidate, received an academic research grant to complete her research on 16th century medical knowledge in Spain. Her research examines how printed images effectively interpreted and broadcasted early modern understandings of medicine and anatomy.
"I am extremely honored to have been given the opportunity to take part in the Fulbright program. I am truly grateful for the wonderful support from my adviser Dr. Stephanie Leitch, the members of my doctoral committee and the FSU Art History Department. Having an entire academic year to focus solely on my research in Spain is a tremendous opportunity, and I am thrilled to have been selected to participate."
Charlie Beckerman , 31, from San Francisco and New York, received an academic grant to study at the University of Sussex in Brighton, England. Beckerman graduated in August 2014 with a master's degree in creative writing.
"I am beyond excited to be traveling to the United Kingdom with the Fulbright Program. I will be doing research in Brighton and London on life during the early years of World War II as part of a future novel project. Doing this kind of research is an unbelievable opportunity, and I'm so grateful for Fulbright for helping me realize this goal."
Frances Falling , 23, from Melbourne, Fla., received a study grant to conduct research on three youth choirs in Germany. Falling graduated with honors in December 2014 with bachelor's degrees in choral music education and environmental studies.
"In my field research, I will spend a significant amount of time with each choir —listening, observing and conducting interviews. With new generations becoming more globally focused and engaged, it raises the question of how cultures can possibly retain their specialness. One answer to that is to listen to what their children are singing."
Daniel Ruiz , 22, from Orlando, Fla., graduated in May with bachelor's degrees in creative writing and Spanish. He received an academic research grant to study at La Universidad de Playa Ancha in Valparaíso, Chile.
"My work is in poetry, and Chile has boasted two Nobel laureates in poetry (Gabriela Mistral and Pablo Neruda), but that's just scratching the surface of a country with a vast history filled with innovative poets — all of whom, in one way or another, devoted much of their body of work to the cultural and political climates of Chile while using the beautiful country's diverse geography as a backdrop. In Chile, I will be writing a book of poems — half in English, half in Spanish — that explores these same climates from the perspective of a foreigner who is lucky enough to get the inside scoop on such a magical place."
The English teaching assistant recipients are:
Alexis Cherry , 22, from Tampa, Fla., graduated in December 2014 with a bachelor's degree in international affairs and economics. She will teach English in Turkey.
"It's such an honor for me to be selected as a Fulbright Scholar.This will be my first chance to work in an intercultural and international environment. I'm excited to become part of a Turkish community in order to form strong relationships and promote cultural diplomacy."
Nia Dickens , 21, from University Place, Wash., graduated in May with a bachelor's degree in creative writing. She will travel to Belgium to teach English.
"As a child, my mother always encouraged me to have a love for travel and be open to exploring new places, so for me being selected as a Fulbright scholar just feels like the manifestation of one my childhood goals. I can't wait to see where this adventure takes me. As a writer, my primary goal in teaching abroad is to open myself to not simply cultural exchange but to storytelling in Belgium and the diverse cultural perspectives that encompass the country."
Erica Fedor , 24, from Ellicott City, Md., graduated in May with a master's degree in ethnomusicology. She will teach English in the Czech Republic.
"Getting to teach English in the Czech Republic as a Fulbright grantee is a once-in-a-lifetime opportunity. Sen. Fulbright's vision was to 'expand the boundaries of human wisdom and empathy,' and I am so excited to build meaningful relationships with my neighbors in Dobruška both in and out of the classroom while working on pre-dissertation research regarding bluegrass in the Czech Republic."
Lacy Goode , 22, from Tallahassee, graduated in May with a bachelor's degree in psychology and she will teach English in Taiwan.
"I am so thrilled to have the opportunity to embark on this journey to the beautiful country of Taiwan. I cannot wait to both teach and learn from my students. I hope to uphold Fulbright's mission of fosteringmutual understanding and increasing international ties by engaging with the individuals in Taiwan in and out of the classroom."
Robert Haley , 23, from Greenville, S.C., graduated in May 2014 with a bachelor's degree in international affairs. He will teach English in Taiwan.
"I am excited to be heading to Taiwan as a Fulbright Scholar! My goals are to gain a deeper understanding of political activism among Taiwan's youth, while improving my Chinese language proficiency. The year spent living and working in Taiwan will provide me with the further knowledge and experiences that will benefit me as I pursue advance degrees. Overall, I hope to increase the cultural and linguistic ties between Taiwan and America by helping teach English to the next generation of Taiwanese leaders. Personally, I hope to establish relationships that matter for years and years to come."
Kendra Mitchell , 35, from Tallahassee will travel to South Africa to teach English. She has already earned a master's degree in English, and will complete her Ph.D. in English this fall.
"My excitement to teach English in South Africa is indescribable. My dissertation research describes instances of multilingualism among African-American students in the FAMU Writing Resource Center, and now I get to expand my experience in a country with 11 official languages. I am drawn to this country because I marvel at the people's resilience despite systemic oppression. The learning opportunities are endless and I hope to contribute as much I will gain."