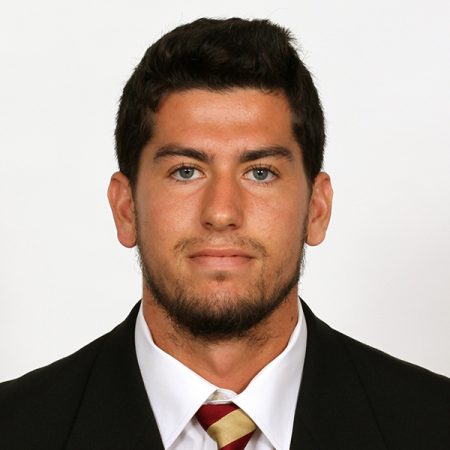 Recent Florida State University graduate and former men's tennis player Cristian Gonzalez Mendez was named the 2015 Jim McKay Scholarship winner by the NCAA.
The award, named for the late sports journalist, annually recognizes two student-athletes — one male and one female — who plan to pursue a career in the sports communication field. Gonzalez Mendez, who earned a bachelor's degree in public relations earlier this month, will receive $10,000 in recognition of his outstanding academic performance.
"It's an honor to receive the Jim McKay Scholarship from the NCAA," Gonzalez Mendez said. "I'm fortunate to have the opportunity to receive this to keep studying at Florida State. I want to thank my family and fiancé Summer for their immeasurable support throughout my collegiate career as I couldn't have done it without them."
On the court, Gonzalez Mendez played at the No. 4 line in 2015 and helped Florida State reach the NCAA Tournament for the 13th consecutive season. In the opening round against Troy, he won the second NCAA Tournament match of his career. With that victory, he finished his FSU career ranked in the Top 10 in school history for singles wins with 83.
In the classroom, Gonzalez Mendez made the President's or Dean's List seven times and finished with a 3.92 GPA over four years. He was named the Golden Torch winner three times and helped men's tennis win the team award twice.
Gonzalez Mendez also volunteered for Florida's Water and Land Legacy, working to create strategies for statewide voter referendum, and mentored Boys and Girls Club of the Big Bend members. He plans on continuing his education at Florida State with a graduate degree in integrated marketing communications.
"Cristian is the ultimate student-athlete," head coach Dwayne Hultquist said. "He's been ranked in singles and doubles in his career. At the same time, he's a remarkable student who has demonstrated exactly what we want from our athletes both on and off the court. We're really excited for him to win this award."
The McKay Scholarship has been awarded since 2008. Tennessee women's basketball player Cierra Burdick was the other 2015 recipient.