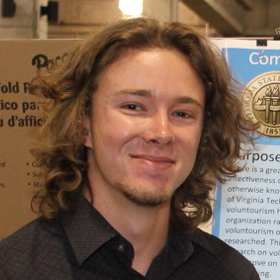 Thousands of college students across the nation are packing their bags and heading out to see the world this summer.
But they aren't necessarily going on typical college student vacations like crashing a friend's beach house or backpacking through Europe. An increasing number of students are taking trips with a purpose —and embarking on journeys to do volunteer work around the globe.
Brendan Rempert, a junior at Florida State University, will be traveling abroad this summer as an international service-learning volunteer.
The media and communications studies major has traveled extensively, but never quite like this. Rempert will spend this summer in India, teaching English to students at the Parijat Academy in the Pamohi Village.
Rempert prepped for his journey by participating in FSU's Global Scholars program, which helps students secure summer internships at nonprofit organizations in developing countries around the world.
Students in the program train for the spring semester before their trip and must complete a capstone research project on an issue facing the overseas community after completing their internship. During their training, students spend a considerable amount of time discussing and critically reflecting on international volunteering and the growing industry of "voluntourism."
For his research project, Rempert decided to take a closer look at voluntourism —an increasing trend in international travel —and whether the good intentions of volunteers may sometimes have negative consequences for the communities.
"A lot of Westerners go in thinking, 'We're going to save the world in this two-week trip,'" Rempert said. "That's just not the case. It fascinated me and made me want to dig deeper."
Through a literature review of articles about voluntourism, Rempert found that most focused on the volunteer's experience rather than the experience of the host organization.
"It is just assumed it has been a good exchange and there were positive outcomes," Rempert said. "I saw this gap in the research in terms of listening to what the host organization has to say."
Rempert found that many organizations do not conduct background checks, which can result in poor skill compatibility among volunteers and a lack of effectiveness.
But he also found several positive results from voluntourism like the increase of social activism, increased manpower in communications, financial support for projects and improvement of facilities.
"When short-term volunteer opportunities are well organized, tourists can use their limited spare time and respective skills to create positive sustainable change," Rempert said.
Rempert presented a poster of his initial findings on the subject at Florida State's Undergraduate Research Symposium last spring.
In addition to teaching English at the Parijat Academy, Rempert will continue his research and explore at the relationship between the academy and international volunteers.
With a focus on the host organization, he will ask questions like:What are the benefits? How can we improve to maximize the positive impact of this exchange? Are there any past instances where even good intentions have led to negative consequences?
"Brendan has tackled an interesting and important dimension of international social connections," said Professor Steve McDowell, associate dean of academic affairs in the College of Communication and Information."As he notes, there are tremendous potential benefits for both sets of parties if these visits and volunteer work can be organized clearly and usefully.I'm very glad he addressing this and look forward to discussing what he finds in his work this summer."
Nearly 50 students are participating in the Global Scholars Program at Florida State this summer. Many of these students are from traditionally underrepresented backgrounds, and thanks to the generosity of donors, the program is able to provide significant financial support and help make sure this transformative educational experience is accessible to students across the university.
"The Global Scholars program hopes to cultivate active citizens of the world who can use research and critical thinking skills to engage with different cultural perspectives and make a positive impact in the global community," said Joe O'Shea, director of FSU's Center for Undergraduate Research and Academic Engagement.
For more information about the FSU Global Scholars program, visit http://cre.fsu.edu/Students/Global-Scholars-Program.
Follow the 2015 FSU Global Scholars on their blog at https://www.omprakash.org/blog/group/fsuglobalscholars.