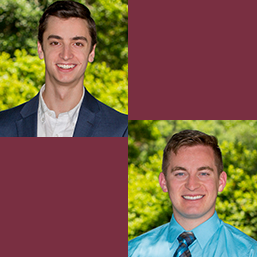 Two Florida State University graduating seniors will be studying at the University of Oxford this fall after being named Frost Scholars in the second year of the scholarship program.
David Miller and Richard Rogers will begin their studies at Oxford in October 2015. They are among 10 recipients of scholarships through the Frost Scholarship Programme, which funds current State University System of Florida students for one-year, full-time master's courses in science, technology, engineering and mathematics (STEM) at Oxford.
The program, which is supported by the Phillip and Patricia Frost Philanthropic Foundation, covers 100 percent of university and college fees and provides a grant for living costs.
"David and Richard's selection as Frost Scholars is a phenomenal accomplishment and well-deserved honor," said Craig Filar, director of the Office of National Fellowships. "To have two of our students enrolling at Oxford this fall on Frost Scholarships is recognition of Florida State University's commitment to excellence in the academic and scientific opportunities available to our students. Although their paths are quite distinct, their recognition by the Frost Foundation and the University of Oxford demonstrates the high caliber of research experience, faculty mentorship and co-curricular activities they both have had at Florida State.They will be wonderful ambassadors."
Miller, 22, plans to study medical anthropology at Oxford this fall. A native of Tallahassee with deep family roots at Florida State over three generations, Miller majored in religion with a minor in chemistry. He is interested in an interdisciplinary career in health, and he likely will enter medical school following his year at Oxford. Miller is a member of the Honors Medical Scholars Society and is one of the founders of the Society for Practical Ethics at FSU, which organized and hosted the National Undergraduate Bioethics Conference and National Bioethics Bowl at Florida State in April.
"Cultural practices have profound influences on health care within a community," Miller said. "I look forward to continuing my research in this area through the medical anthropology program, and I am equally excited about the opportunity to live in a different country and experience the culture of Oxford.This experience will help to shape my goals for what I want to do further down the road."
Rogers, 21, is a biochemistry major who will study pharmacology at Oxford. Originally from Daytona Beach, Fla., Rogers comes from a long line of FSU graduates, including both of his parents and his sister. A co-founder and vice president of the Neuroscience Undergraduate Student Association, Rogers is also an active volunteer at the Seacreast Wolf Preserve in Chipley, Fla.
"I've wanted to go to Oxford since my freshman year, and I thought pharmacology would be a great fit," Rogers said. "I really enjoy problem solving and developing pharmacological compounds would be an exciting discipline. Pharmacology is an excellent way to utilize my skills and positively contribute to the world."
The University of Oxford, located in Oxford, England, is a leading research university and the oldest university in the English-speaking world.
Before they begin their studies in October, Frost Scholars take part in an exclusive weeklong orientation programme at one of Oxford's oldest colleges, Exeter College, to introduce them to academic life at Oxford.
"We are delighted to see a continuing stream of strong applicants from Florida and look forward to welcoming the next cohort of Frost Scholars to the university," said Andrew Hamilton, vice chancellor of the University of Oxford. "In time we hope that many more bright students from Florida will have such generous support for their studies at Oxford."