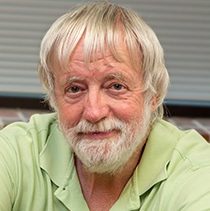 Max D. Gunzburger, a world-renowned computational scientist and mathematician in Florida State University's Department of Scientific Computing in the College of Arts and Sciences, has been named the 2015-2016 Robert O. Lawton Distinguished Professor, the highest honor given by the university faculty to one of its own.
"As one of the best computational scientists in the world and the acknowledged leader in several areas of inquiry, Max Gunzburger represents the best of academic endeavor at Florida State and we are exceptionally proud to name him as this year's Lawton Distinguished Professor," said FSU President John Thrasher.
Computational science involves the development and application of algorithms that enable the use of computers to solve science and engineering problems. As such, computational science has joined experimental and theoretical science as means for scientific discovery and technological design. Computational mathematicians especially contribute to algorithm development and further put those algorithms on firm mathematical foundations.
Gunzburger has developed and analyzed novel algorithms that he and others have applied to a variety of scientific and engineering areas, including aerodynamics, superconductivity, climate, image processing, subsurface flows, system control and design, and quantification of uncertainty and risk.
"Computational scientists like Max contribute their scholarly efforts in two areas," said Joseph Travis in a letter supporting Gunzburger's nomination. Travis is a former dean of the College of Arts and Sciences and 1996-1997 Robert O. Lawton Distinguished Professor. "First, they study the physical phenomena being modeled, such as the transfer of electricity. Second, they develop computational models that can be deployed in a wide variety of applications that use similar mathematics."
"Max has been a leader in tackling both types of challenges — specific computational models and more general computational methods," Travis said.
Gunzburger joined the university's faculty in 2002 as a professor in the math department, a researcher in the School of Computational Science and Information Technology and as a Francis Eppes Professor of Mathematics. He served as director of the School of Computational Science from 2005 to 2008. Then, in 2008, he became the founding chair of the Department of Scientific Computing and the Francis Eppes Professor of Scientific Computing.
Gunzburger came to Florida State from Iowa State University where he was a distinguished professor and chairman of its math department. Before Iowa State, he was on the faculty of Virginia Polytechnic Institute and State University, Carnegie Mellon University and the University of Tennessee.
A three-time alumnus of New York University, Gunzburger earned a Bachelor of Science degree in 1966, a Master of Science degree in 1967 and a doctorate in 1969. After graduating, he held positions at the Institute for Computer Applications in Science and Engineering and the Naval Ordnance Laboratory.
In addition to his scholarly work, Gunzburger has served as editor in chief of the Society for Industrial and Applied Mathematics' Journal on Numerical Analysis and as one of the founding editors of that society's Journal on Uncertainty Quantification.
He has served as the chair of the Board of Trustees of the Society for Industrial and Applied Mathematics. He also has served on the boards of several scientific organizations, including the National Advisory Council of the National Science Foundation's Statistical and Applied Mathematical Sciences Institute and the Computing and Computational Sciences Directorate Advisory Committee of the Oak Ridge National Laboratory.
Gunzburger has directed the studies of 37 doctoral students and 27 postdoctoral researchers. Because of Gunzburger's tutelage, many of these also have distinguished records.
One of Gunzburger's former students, Qiang Du, now is a fellow of the Society for Industrial and Applied Mathematics. Du praised Gunzburger for his "truly amazing ability and exceptional vision" that has allowed his work to cover so much ground and open up so many new research fronts.
"This is supported by the many profound contributions he has made to diverse subjects in applied mathematics, scientific computation and related fields," said Du in a letter supporting Gunzburger's nomination. Du is the Fu Foundation Professor of Applied Mathematics and chair of the applied mathematics program at Columbia University.
Another one of Gunzburger's former students, Clayton Webster, is not only a professor of mathematics at the University of Tennessee but also head of the Department of Computational and Applied Mathematics at the Oak Ridge National Laboratory and serves on two editorials boards of the Society for Industrial and Applied Mathematics. Though Gunzburger is a celebrity among mathematicians, Webster said he has a caring attitude toward his students.
"He has been like a second father to me. He is my most trusted mentor and one of my closest friends," said Webster in a letter supporting Gunzburger's nomination. "Even though Max is an extremely famous mathematician, he genuinely cares about his students, their well-being, and considers it his responsibility to mentor them well beyond the completion of their studies."
The Lawton Distinguished Professor Award was first presented in 1957. The award was known as the Distinguished Professor Award until 1981 when it was re-named in honor of the late Vice President for Academic Affairs Robert O. Lawton. At that time past recipients also were designated Lawton Distinguished Professors. To view a list of all Robert O. Lawton Distinguished Professors, click here.