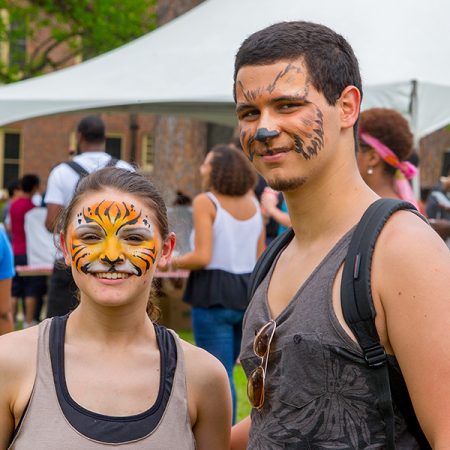 Florida State University students, staff and faculty gathered on Landis Green April 2 for some cool, tasty treats at the President's Ice Cream Social.
President John Thrasher and other university administrators served nearly 2,400 gallons of free Edy's ice cream, cookies and Coca-Cola at the annual spring event.
Thrasher greeted students as he scooped and even posed for a few selfies at the fun-filled event.
"The turnout was amazing," Thrasher said. "Everyone's having a good time and taking a good break from classes."
Students danced to music provided by a disc jockey and enjoyed performances from members of the Flying High Circus. Face painting, cornhole beanbag toss competitions and an inflatable obstacle course also were available for the enjoyment of those attending the social.
"It's a chance to be outside, to relax and hang out with friends," said Jaclyn Neidenthal, a sophomore theater major. "It's been a stressful semester so this helps."
Vice President for Student Affairs Mary Coburn was another university administrator braving the heat to serve up ice cream.
"It's just a great community event," Coburn said. "I purposely wear my nametag to see students' reactions when they see that I'm serving them ice cream. It's an event that just gets better and better each year."
Sponsors of the event were Asker Distributors, Edy's Grand Ice Cream and Coca-Cola.