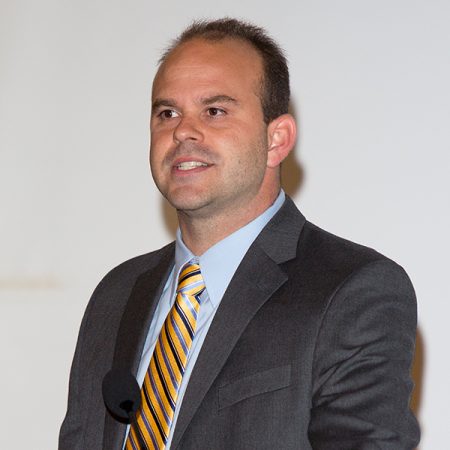 Florida State University graduate students were recognized for outstanding achievements in teaching, leadership, research and creativity at the 2015 Celebration of Graduate Student Excellence April 8.
Professor Kevin Beaver of the College of Criminology and Criminal Justice served as the plenary speaker, offering advice to graduate students who hope to have a future in academia. Citing some of his mistakes and failures from over the years, Beaver encouraged students to continue to set goals, dream big and aim high.
"When we aim low, we don't reach our full potential," Beaver said. "When we aim really, really high, we push ourselves and what we can achieve far exceeds typically what we had anticipated to do."
Graduate School Dean Nancy Marcus hosted the event and she praised the graduate students for the contributions they have made in the academic community.
"This is a time that is set aside to celebrate and honor the excellence of our graduate students in teaching, scholarship, service and leadership," Marcus said. "Their contributions are vital to this university and I am confident that they will continue to contribute to the excellence of this university, as well as the communities they touch after graduation."
Recipients of the Outstanding Teaching Assistant Awards, which are nominated by faculty, staff and students, were: Logan Bearden (English), Catherine Greeley-Bennett (Teacher Education), Brett Walter (Teacher Education), Kimberly Wiley (Public Administration), Keith Richard (Sociology) and Maize Arendsee (Art).
More than 40 graduate students submitted applications for the Graduate Student Leadership Awards, the most the award has received in the last five years. Meagan Arrastia (Educational Psychology and Learning Systems) and Holly Widen (Geography) were the recipients of the distinguished honor and a $675 award that is sponsored by the Graduate School and the Congress of Graduate Students.
Six students were given the Research and Creativity Award, a $675 award for graduate students that have made outstanding contributions to research and creative endeavors in the categories of natural and physical sciences, social and behavioral sciences, and the humanities and arts. Marceline Boyd (Classics), Lindsey Scott (Modern Language and Linguistics), Kimberly Smith (Psychology/Neuroscience), Takudzwa Madzima (Nutrition, Food and Exercise Science), Xiaoyan Tan (Chemistry and Biochemistry) and Zhengwu Zhang (Statistics) were this year's recipients.
Winners from the FSU 2014 Fall Three Minute Thesis, a research communication competition, were also recognized. Kimberly Smith (Psychology/Neuroscience) was honored for winning both the fall contest and the regional contest at the Conference of Southern Graduate Schools held in March. Michael Mitchell (Computer Science) received the second place award and J. Hendry Miller (History) took home the people's choice award at the fall event.
A number of graduate students were recognized for their achievements in completing either the Preparing Future Faculty Fellows or the Preparing Future Professionals Fellows. The students were Andrea Stathopoulos (Biological Science/Neuroscience), David Moody (English), Young Sun Lee (Communication), Abdulrahman Olwi (Teacher Education), Marilyn Anglade (Educational Leadership and Policy Studies), Katrina Rutledge (Interior Design), James Gaboardi (Geography), Justine Gunderson (Sociology), Lindsey Baker (Interior Design) and Zouleika Knight (Retail Merchandising and Product Development).
Program for Instructional Excellence teaching associates were honored for serving the teaching and learning community of the university: Jhoanna Mendez (Modern Languages and Linguistics), Carmen Marcous (Philosophy), Timothy Pressley (Educational Psychology and Learning Systems), Sarah Wilcoxon (Dance), Katherine Pierson (Theatre), Jeremiah Campbell (Nutrition, Food and Exercise Science), Micah Lomax (Music Theory), Mia Gormandy (Musicology), Brandon Brice (Economics), Holly Widen (Geography), Casey Delehanty (Political Science), Stephanie Bradley (Sociology) and Luis Santiago (Urban and Regional Planning).
Also recognized were 65 students that earned nationally competitive honors, grants and fellowships. Some of these awards included the SMART Fellowship, Golden Key Research Grant, AmeriCorps Education Award and more.
For the first time at the Celebration of Graduate Student Excellence, faculty members who have shown dedication to their graduate students and a commitment to excellence were honored with the Graduate Faculty Mentor Awards. Recipients included Michael Shatruk (Chemistry and Biochemistry), Anuj Srivastava (Statistics), Valerie Shute (Educational Psychology and Learning Systems), John Geringer (Music Education) and Anne Barrett (Sociology).
The annual award ceremony and reception is sponsored by The Graduate School, the Program for Instructional Excellence, the Office of Research and the Congress of Graduate Students.