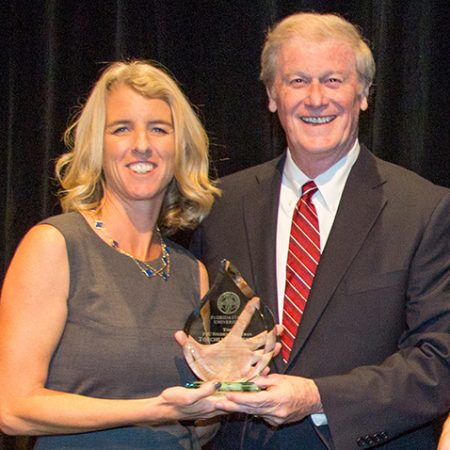 Next April will mark the 40th anniversary of the end of the Vietnam War, so it was fitting Florida State University's fourth annual Student Veteran Film Festival featured Rory Kennedy's "Last Days in Vietnam," as the marquee film of this year's Veterans Day event.
The film, which was presented at the 2014 Sundance Film Festival, captures the compelling account of U.S. service members evacuating their South Vietnamese colleagues and friends during the closing days of the Vietnam War. It will make its broadcast debut April 28, 2015, on PBS.
"It's an honor to have made this film and be able to share a glimpse of history with audiences across this country," Kennedy said. "It's a contribution to understanding this historical moment, but also I hope audiences make a connection in what's happening today and feel the relevance of this story as we're trying to get out of Iraq and Afghanistan."
At this year's festival, Abby Kinch, president of the FSU Collegiate Veterans Association, thought it was important to recognize veterans from the Vietnam era, who were often met with disdain and contempt when they returned home from overseas. She wanted to salute Vietnam veterans for ensuring no future veteran would endure what they did.
"I wanted to acknowledge that Vietnam veterans kept their promise and we have such a wonderful experience in the military now because of what they have done and continue to do," Kinch said. "I think showing 'Last Days in Vietnam' brings full circle their experience with ours and gives them a long deserved 'thank you.'"
Before the screening of the film, President John Thrasher, a Vietnam veteran himself, presented Kennedy with the Student Veteran Torchlight Award for Outstanding Achievement in Filmmaking.
"We are so proud to welcome the film's director Rory Kennedy to Florida State University today to honor her work and present her with the 2014 Torchlight Award," Thrasher said. "The Student Veteran Film Festival not only brings acclaimed filmmakers to Florida State University, it highlights our commitment to becoming the most veteran friendly university in the nation."
The Torchlight Award, which comes with a $25,000 cash prize, is given annually to a selected filmmaker who illuminates issues affecting veterans.
"I'm thrilled and touched and honored to receive the Torchlight Award," Kennedy said. "My commitment is to this film and getting it out to as many communities as possible and extending the impact and reach of this story, and this financial help will enable that effort. I am so grateful to you and the school to acknowledge the work I have done and the importance of this film."
Kennedy, daughter of the late Sen. Robert F. Kennedy, is an Emmy Award-winning independent documentary filmmaker, as well as cofounder and president of Moxie Firecracker Films.Her films cover an array of issues rangingfrom poverty to politics to human rights and have been shown on HBO, A&E, MTV, Lifetime and PBS.
"She's an accomplished filmmaker and has brought all of that talent and craft to a moment in history that illuminates our servicemen on the ground in a way that is unforgettable," said Paul Cohen, executive director of the Torchlight Program in the FSU College of Motion Picture Arts.
The Student Veteran Film Festival is a one-of-a-kind event that encapsulates the shared vision and commitment by Florida State to become the most veteran-friendly university in the country. The mission is to raise awareness of student-veterans' issues and bridge the gap between veterans and the community.
It is also respected nationally in the film industry.
The films from the festival's first three years — "Hell and Back Again" (2011), "The Invisible War" (2012) and "Which Way is the Front Line from Here?" (2013) — have been nominated for numerous awards, including Academy Award nominations for those screened in 2011 and 2012. Kirby Dick (2012) and Sebastian Junger (2013) have been honored with the program's first two Torchlight Awards.
The screening was followed by an audience questions and answer session with Kennedy and a reception.
The festival is a collaborative effort among theCollegiate Veterans Association, Interfraternity Council,Panhellenic Association, Student Government Association and the College of Motion Picture Arts.