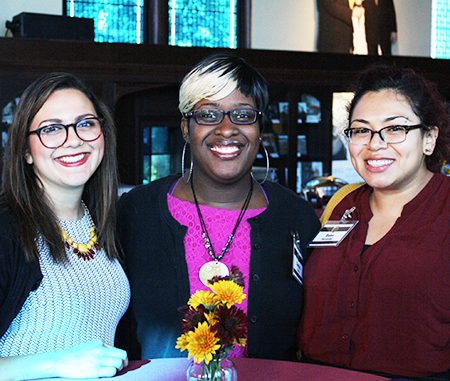 Women associated with Florida State University, from first-year students to alumna who have been a part of the FSU tradition for decades, gathered to explore women's leadership and its important role in society during the Women's Leadership Institute which took place Oct. 24-25.
WLI, an annual program in partnership with the Center for Leadership and Social Change and the Women for Florida State University, began Friday evening with a keynote address from Interim President Garnett S. Stokes, who emphasized the belief that leadership is more than a position or title and challenged the participants to exude leadership in all facets of their life.
Friday's events concluded with a presentation on Florida State's rich history of women and leadership from Katie McCormick, associate dean for Special Collections and Archives, and Sandra Varry, Heritage Protocol and university archivist.
On Saturday, a select group of 48 undergraduate women were divided into separate cohorts and worked with a WLI facilitator, which comprised of FSU faculty, staff, deans and alumna. The activities comprised of discussions around leadership identity with sessions of reflection on their own personal leadership capacity.
"The conversations were just amazing," said Marcy Driscoll, dean of the College of Education and WLI facilitator. "The women were having these deep and nuanced conversations about leadership and gender roles in leadership. It made me really proud to have a group of such articulate, smart and wonderful women here at Florida State."
WLI challenged the participants to continue its mission to empower women to lead.
"Florida State needs Women's Leadership Institute to establish the connection between FSU women and those that have left irrevocable patterns in the university's past," said Kymber Green, sophomore psychology and editing, writing and media double major from Palmer, Alaska.
"Hearing the stories of women who attended FSU throughout the past century was an unforgettable experience. It inspired me to keep developing the pieces of history I hope to tell women like myself one day in the Institute's future."