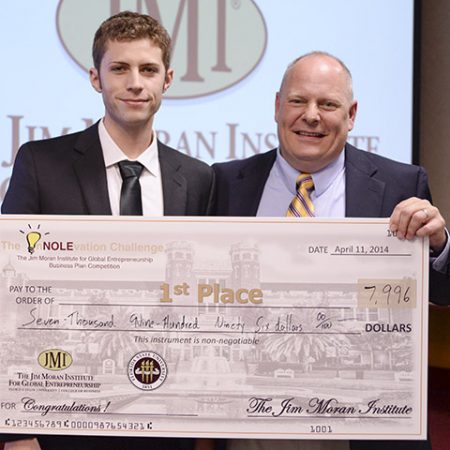 Florida State University students with grand ambitions and great business ideas stand to win a portion of $10,000 in cash and in-kind contributions in the 2014-2015 InNOLEvation™ Challenge Business Model Competition.
This year's competition also includes a social entrepreneurship component, Ideas with Impact, with prizes for students presenting nonprofit business models. The competition is open to current Florida State graduate and undergraduate students in all disciplines.
The competition kickoff and informational workshop will be held from 5 to 7 p.m. Wednesday, Nov. 19, in the College of Business Starry Conference Room (Room 214), Rovetta Business Building. The competition entry deadline is Friday, Nov. 21, at 11:59 p.m. with the application found at jmi.fsu.edu/Students/InNOLEvation-Challenge-2014-2015/Application.
For those entering the competition, a series of business development workshops, mentoring sessions and networking opportunities will help prepare contestants to be judged during the Shark Tank Finale business presentation. Feb. 27, 2015. Judges for the competition include potential investors, entrepreneurs and Florida State faculty members.
This year's InNOLEvation™ Challenge represents a departure from previous business plan competitions held at Florida State. The competition now requires competitors to identify and precisely define the key business model assumptions of their new venture, test those assumptions with customers and, using The Lean Startup practices, "pivot" or revamp the model based on customer feedback until a customer-validated business model is achieved.
Partnering with The Jim Moran Institute for Global Entrepreneurship in this annual event are the DeVoe L. Moore Center in the College of Social Sciences and Public Policy, and the Division of Undergraduate Studies' Center for Undergraduate Research and Academic Engagement, which are providing the social entrepreneurship prizes. An additional partner, Domi Ventures, will offer space and mentoring at Domi Station through the end of 2015 and a co-working membership to the first- and second-place winners.
The InNOLEvation™ Challenge, with its Ideas with Impact category, reflects the university's mission to transform itself into "the Entrepreneurial University." Its mission places a campuswide emphasis on creating a culture among students, faculty and staff members that embraces entrepreneurship, creativity and innovation, and that supports the concept that those who take calculated risks can gain enormous benefit.
Businesses wishing to make contributions that encourage and promote innovation by Florida State University students can do so until the competition's finale in February. For more information, visit jmi.fsu.edu.