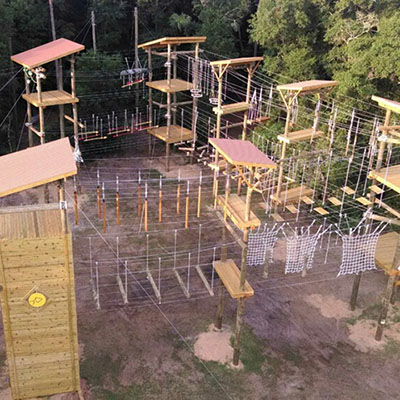 Adrenaline junkies take note. Florida State University Campus Recreation introduces a one-of-a-kind high challenge course this fall —a new addition to FSU Challenge at the Reservation.
Located at the FSU Reservation, it is one of the largest high challenge courses in the Southeast, 50 feet tall with seven towers.
"The high challenge course offers Florida State students, faculty and staff, and the local community, an opportunity to facilitate learning and positive change through a thrilling outdoor team-building experience at heights over 30 feet," said Jordan Merrick, assistant director of Campus Recreation.
The high challenge course will officially be recognized at a grand opening event at 3 p.m. Thursday, Oct. 16 at the FSU Reservation, 3226 Flastacowo Road.
The course is equipped to allow up to eight people participate in 12 different activities that incorporate balance, jumping and climbing and can handle 64 participants at the same time. Activities encourage communication, trust, leadership, civility and fun, and can be adapted to accommodate most ability types.
Business groups, athletics teams, schools and civic organizations —even the Japanese U-20 soccer team —are just some of the groups that have benefitted from the FSU Challenge's team-building exercises.
"A group can benefit from our programs by being put in situations where they are asked to come up with creative solutions for problems," Merrick said."After they create a solution, they get to carry out that solution and we have discussions on how they can become more efficient and effective as a unit.
"By adding the capability to our high challenge course options, we have a unique opportunity to 'level the playing field' by putting each member in a space where they may feel a little uncomfortable and are required to rely on their teammates even more."
FSU Challenge also provides a low challenge course in a combination of field and wooded settings or an express-course for those with limited time.
On all courses, trained facilitators supervise participant safety. All participants wear full-body harnesses, helmets and dual-belay attachments.
To make reservations for your group, contact Jordan Merrick at (850) 644-6124 or visit http://campusrec.fsu.edu/outdoors/challenge.