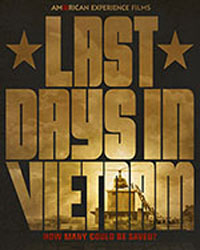 Florida State University students will bring filmmaker Rory Kennedy and her documentary film "Last Days in Vietnam" to the 4th Annual Student Veteran Film Festival Tuesday, Nov. 11.
The film, which was presented at the 2014 Sundance Film Festival, captures the compelling account of U.S. service members evacuating their South Vietnamese colleagues and friends during the closing days of the Vietnam War.
The Student Veteran Film Festival, which includes a discussion with Kennedy, will take place Tuesday, Nov. 11 at 3:30 p.m. at Ruby Diamond Concert Hall, 222 S. Copeland St. A reception will follow at 6 p.m.
Kennedy, daughter of the late Sen. Robert F. Kennedy, is an Emmy Award-winning independent documentary filmmaker, as well as cofounder and president of Moxie Firecracker Films.Her films cover an array of issues rangingfrom poverty to politics to human rights and have been shown on HBO, A&E, MTV, Lifetime and PBS.
"With the upcoming 40th anniversary of such an important point in America's history, it was only natural to turn to the previous generation of veterans for this film festival," said Abby Kinch, president of the FSU Collegiate Veterans Association. "I am honored Florida State is hosting this event, including the screening of an acclaimed film that depicts the honor of those men and women and inspires a discussion about the Vietnam War with veterans and civilians across generations."
Kennedy also will receive the "FSU Student Veteran Torchlight Award for Outstanding Achievement in Filmmaking" following the screening of the film. The award, which comes with a $25,000 honorarium, is presented annually to a filmmaker who illuminates issues affecting veterans.
"Florida State is committed to becoming the most veteran-friendly university in the nation, and recognizing filmmakers who document topics related to the military is another way we raise awareness and pay tribute to our veterans," said Interim President Garnett S. Stokes. "We are pleased to honor Rory Kennedy with this award for her enthralling story about the final days of the Vietnam War."
The film festival, which is intended to raise awareness of student-veterans' issues and bridge the gap between veterans and the community, is respected nationally in the film industry. Each of the festival's first three films — "Hell and Back Again" (2011), "The Invisible War" (2012) and "Which Way is the Front Line from Here?" (2013) — has been nominated for numerous awards, including Academy Award nominations for those screened in 2011 and 2012.
Paul Cohen, executive director of the College of Motion Picture Arts' Torchlight Program, secured the rights to this year's film, which will make its broadcast debut April 28, 2015, on PBS.
"The Student Veteran Film Festival is attracting national film industry attention, which resonates on the university's commitment and dedication to our student veterans," Cohen said."It is aprivilege for the Torchlight Program to again assist with this year's program."
Tickets are $10 for students and $30 for the general public. To purchase a ticket, visit http://vetfilmfest.fsu.edu/tickets/.
In addition to the marquee film screening on Nov. 11, the festival also includes two ancillary events that are free and open to the public.
An exhibit of local veterans' Vietnam-era memorabilia will be held in the Walmsley Gallery of the FSU Fine Arts Museum from Oct. 17 to Nov. 16. Additionally, a symposium, "A Conversation About Vietnam," will take place from 6 to 8 p.m. Tuesday, Oct. 28, at the Augustus B. Turnbull III Florida State Conference Center, 555 W. Pensacola St. The moderated, interactive event will allow for audience participation and include a panel of local Vietnam veterans and government officials.
The festival is a collaborative effort among theCollegiate Veterans Association, Interfraternity Council,Panhellenic Association, Student Government Association and
the College of Motion Picture Arts.