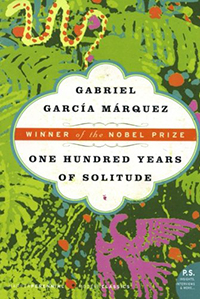 Readers across the globe will pay tribute to the work of Nobel Prize-winning author Gabriel Garcia Marquez during Florida State University's fourth annual marathon reading event beginning at 10 a.m. Tuesday, Oct. 7, at Strozier Library.
Garcia Marquez, a native of Colombia who introduced readers to the literary genre of magical realism, died last April at the age of 87. Volunteers will read aloud two of Garcia Marquez's timeless novels, "One Hundred Years of Solitude" and "Love in the Time of Cholera," in English and Spanish as they honor his life, his legacy and his language.
"Gabriel Garcia Marquez was as popular among the public as he was among literary critics, a feat accomplished by few writers," said Peggy Wright-Cleveland, an adjunct instructor for English and women's studies at Florida State. "His words traveled the globe and brought attention to a struggle so human it made us all feel as one with Colombia. When we read Marquez, we find ourselves in others."
Last year, volunteers read Leo Tolstoy's"Anna Karenina" in both English and Russian, which took about 36 hours.Herman Melville's"Moby Dick" and Charles Dickens'"Bleak House" were selections at prior readings.
"We continue the reading this year, as always, to experience anew how the power of language and storytelling shapes us and our communities, both locally and globally," said Wright-Cleveland, who organizes the reading.
Strozier Library will serve as headquarters for the event, but readers from FSU's international campuses in London, Panama City (Panama), Florence and Valencia also will participate via Skype. Volunteers read in 15-minute increments in an area set up behind the turnstiles inside Strozier's main entrance. This year's marathon is expected to last 36 hours.
The event is open to the public, and community members are encouraged to visit Strozier to listen and read. Volunteers may sign up online at VolunteerSpot (http://vols.pt/BCu9qc) or simply show up at the library to take a turn reading, particularly after midnight Wednesday.