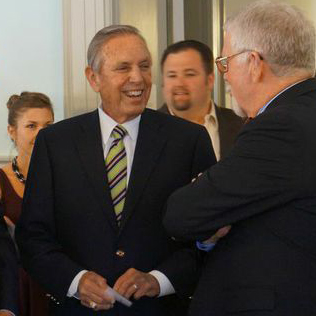 The Florida State University Masters of Applied American Politics and Policy (MAAPP) Program featured Florida Secretary of State Ken Detzner and former Florida Gov. Bob Martinez in an event to ignite youth engagement on July 22.
"We stand to encourage everyone to participate in their communities and to have a voice," said MAAPP student John McSweeny. "The MAAPP Program teaches all of its students how to meaningfully participate."
One of just three programs of its kind in the country, Florida State's MAAPP Program has more than 250 graduates that have worked within the state and around the country with presidents, governors, legislatures and more, according to Robert Crew, MAAPP Program director.
Finding a purpose and forming partnerships are two key principles Detzner emphasized on resolving problems using civic engagement, but following a passion is what he finds most important.
"If you don't have a passion for your civic engagement, then you will not ever achieve true happiness and success," Detzner said.
Gov. Martinez encouraged the community to have enthusiasm for their cause in order to get others involved.
"Make it interesting, make it responsible, and students will be interested and excited about it," he said.
The event was hosted at Florida's Historic Capitol to celebrate the finale of the touring Smithsonian exhibit Choosing to Participate: The Power of Civic Engagement. The exhibit will end August 10.
The exhibit encourages dialogue, engagement, respect and participation within communities and serves as a reminder that everyone has a role in improving society.