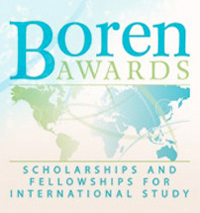 Florida State University is one of the nation's top producers of prestigious David L. Boren Scholarships with five seniors set to spend a year abroad in world regions critical to U.S. interests.
Boren Scholarships provide up to $20,000 to U.S. undergraduate students to study less commonly taught languages in Africa, Asia, Central and Eastern Europe, Eurasia, Latin America and the Middle East. The students will gain valuable foreign language and cultural skills during their year abroad.
Craig Filar, the university's director of National Fellowships and assistant dean of Undergraduate Studies, called the scholarship recipients "ideal student ambassadors who embody the core values of Florida State."
"I am excited for the opportunity that our students will have as they embark on their critical-needs language study across the globe," Filar said. "Having a record number of five undergraduates from Florida State University selected as Boren Scholarship recipients illustrates our university's commitment to developing the critical thinking skills and global engagement of our students in a way that is clearly recognizable on both the national and international stages."
With five students receiving Boren scholarships, Florida State is fifth in the nation among universities with Boren scholarship recipients this year. The University of Maryland is first with 12 students, followed by American University with 11, the University of Wisconsin with nine and Arizona State University with seven.
Florida State's five Boren scholarship recipients are:
•Tara Catanach, 21, a senior from Miami, will travel to Tanzania to study Swahili. Catanach is majoring in international affairs.
"I am very interested in international education and work with refugees, so I am hoping that my language skills learned through this experience will help me in these areas," said Catanach, whose Boren experience begins this summer with an eight-week domestic Swahili program. "I very much look forward to my studies as well as the relationshipsI will forge while there."
Catanach hopes to work with USAID in the future, particularly in the regionof East Africa.
•Paige Dabney, 21, a senior from Baker, Fla., will travel to the Eurasian nation of Georgia to study the Georgian language. Dabney is majoring in international affairs and geography.
"After visiting Georgia the past two summers, it's surreal to know that the vision I created in my freshman year is now becoming reality through the Boren scholarship," said Dabney, who will be studying at the Language School of Nana Shavtvaladze in Tbilisi, Georgia, through the American Councils' Eurasian Regional Language Program.
"This international experience will be demanding of my patience and academic abilities, but the knowledge I return with will be a significant contribution to the U.S. government, the FSU community and my personal growth."
•Trevor Longstreet, 21, a senior from Panama City, Fla., will travel to Russia to study Russian. Longstreet is majoring in political science and the Russian language.
"The Boren Scholarship will give me the opportunity of a lifetime to experience Russian culture and language firsthand, givingfaces to a distant country," Longstreet said. "It is my goal to work on attaining fluency.
"I hope to develop the skills needed to read and express my thoughts of international relations entirely in Russian, while at the same time learning how the typical Russian student is taught international relations," said Longstreet, who plans on fulfilling the service requirement of the scholarship by working for the State Department as a foreign service officer.
•Michael "Eli" Mitrani, 23, a senior from Hollywood, Fla, will travel to Jordan to study Arabic at the Qasid Institute. Mitrani is majoring in criminology and psychology.
"The Boren scholarship is a great opportunity because it will allow me to be immersed in the culture and lifestyle in Jordan," said Mitrani, who plans to find volunteer opportunities in Jordan working in some capacity with Syrian and perhaps Palestinian refugees.
Mitrani also is looking forward to fulfilling the Boren Scholarship requirement of working for the federal government for at least one year.
"That is where my career aspirations are to begin with," he said. "I am interested in working in the State Department."
Before completing his Boren service requirement, Mitrani plans on attending graduate school and studying international affairs, focusing on the Middle East region.
•Jacqueline Rojas, 21, a senior from Ocala, Fla., will travel to Mozambique to study Portuguese at Eduardo Mondlane University in Maputo. Rojas is majoring in international affairs and political science.
"In addition to language classes, I will be studying about the history, culture and politics of Mozambique," Rojas said. "The most anticipated outcome is for me to be able to speak Portuguese well enough so that I can converse with the people of Mozambique.
"Everything I learn through this scholarship will be beneficial to me as I pursue a graduate degree in public and international affairs and eventually a career in the Foreign Service," Rojas said.
Boren Awards — scholarships for undergraduate students and fellowships for graduate students — are sponsored by the National Security Education Program, a major federal initiative designed to build a broader and more qualified pool of U.S. citizens with foreign language and international skills. The awards are administered through the Institute of International Education, an independent nonprofit founded in 1919 that is among the world's largest and most experienced international education and exchange organizations.
Boren, currently president of the University of Oklahoma, served as the 21st governor of Oklahoma from 1975 to 1979 and in the U.S. Senate from 1979 to 1994. To read more, click here.