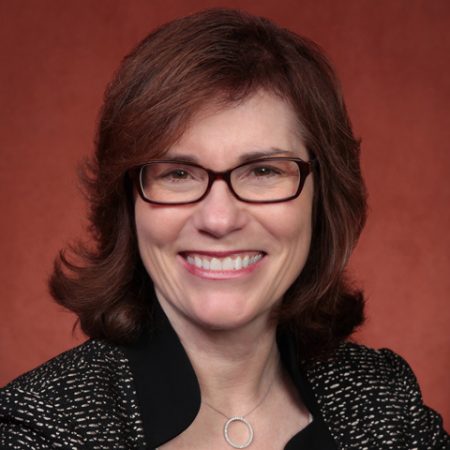 Florida State University Interim President Garnett S. Stokes observed student idealism at its finest April 29 as a dozen students were just beginning to sort and weigh a random collection of "stuff" — including DVD players, clothing and a big plush turtle — during the spring 2014 Chuck It For Charity drive.
At the end of the fall and spring semesters, the ongoing campus sustainability initiative gives Florida State students who are departing for the semester the option of giving their unwanted stuff a second life, diverting unwanted but still-usable personal items from local landfills to community agencies.
"This is what Florida State is all about," said Stokes while touring the Chuck It For Charity collection hub, the university's Solid Waste and Recycling Facility at 1238 Crate St. "To me, this is all very practical. It's about realizing that we can do simple things every day to make a difference."
Since the university established the program in 2009, more than 58 tons of items have been passed on to community agencies and the people they support.
"The community agencies that we partner with know our schedule and really do rely on these donations to help the people that they support," said Elizabeth Swiman, director of Sustainable Campus at Florida State. "Our partners also help to spread the word to other agencies to join us."
One of the students on duty at the collection facility was Josh Mesnik, 22, a senior from Naples, Fla., majoring in advertising. Mesnik learned of the service opportunity while taking Swiman's Leadership and Sustainability course through the Center for Leadership and Social Change.
"As an advertising major, I didn't have much context for this effort until I got here," Mesnik said. "In terms of sustainability, this effort is a way to not just throw out these materials but realize they can either be donated to people who need them or be repurposed in other sustainable ways."
Mesnik had an "ah-ha" moment when he arrived at the Solid Waste and Recycling Facility and saw boxes of refillable plastic water bottles left over from this year's Dance Marathon, the largest student-run philanthropic event at Florida State.
"Dance Marathon has a great cause, but unfortunately produced a whole lot of waste that now needs to be dealt with," he said.
Instead of winding up in a local landfill, hundreds of green and purple water bottles emblazoned with "DM2014" to have a chance to be used by people.
Building a culture that values global sustainability as well as taking action to put the idea into practice is at the core of Chuck It For Charity. Though Florida State students get credit for these and similar service activities, Stokes praised the students for taking responsibility for the world around them.
"What I appreciate most is that this effort is really not about the credit," Stokes said. "It's about wanting to be part of a community and wanting to make the world around them a better place. This is just one example of the many ways our students engage in the community. I couldn't be more proud of them."