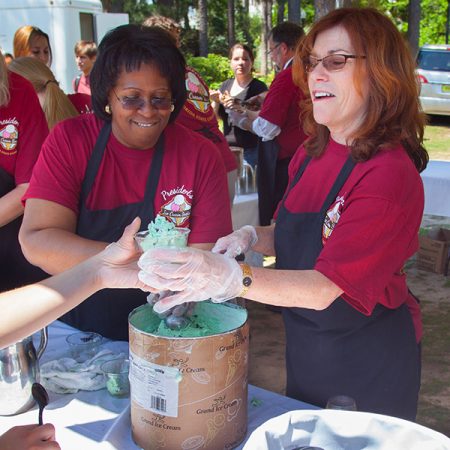 Thousands of Florida State University students, faculty and staff gathered on Landis Green Thursday, April 10, for some tasty treats and fun in the sun at the annual President's Ice Cream Social.
Interim President Garnett S. Stokes as well as vice presidents, deans and volunteers served free Edy's ice cream, cookies and Coca-Cola at the annual event.
"This is a great event on our campus," Stokes said. "It brings together our students, staff and everyone. It just shows what kind of campus we are, and I'm so pleased to be able to host it."
Students enjoyed dancing on the Green to music provided by a DJ as well as performances by the FSU Flying High Circus and a chance to play on an inflatable obstacle course.
One of those students was Maria Villalobos, a senior psychology major.
"It gives you a chance to be out of the classroom and have fun and de-stress while finals are coming up," she said. "It's really good."
Event sponsors were Asker Distributors, Edy's Grand Ice Cream and Coca-Cola.