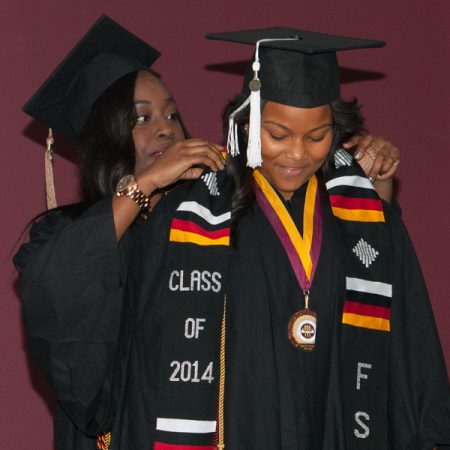 Florida State University students were presented with a special graduation stole and praised for their hard work May 1 during the "Rite of A-rak-ke-ce-tv," a cultural graduation ceremony.
Pronounced "ah-thak-key-sha-tev," the ceremony takes its name from the Seminole Creek word that means "to honor."
It featured references to the culture of the Seminole Tribe of Florida, including the honoring of family and friends — in this case, for the role they play in supporting and investing in the academic experiences of the graduating students.
A highlight of the ceremony came when the graduates — representing and celebrating their own various ethic and cultural backgrounds — were robed with the special stoles featuring four colors with special meaning to the Seminole and Miccosukee peoples. As explained by Miguel Hernandez, associate director for the Center for Leadership & Social Change, the colors represent direction: white symbolizes south, black symbolizes north, red symbolizes west and yellow symbolizes east.
"Graduates, as you leave, remember that you take with you a powerful legacy filled with tradition as well as a magnificent and meaningful gift — the help you received from your academic advisers and mentors who helped you explore your curiosity, nurtured your research and thirst for knowledge, and developed your ability to learn," Hernandez said.
The presentation of the stoles was made more meaningful because they were placed on the shoulders of graduates by a family member or loved one of their choosing.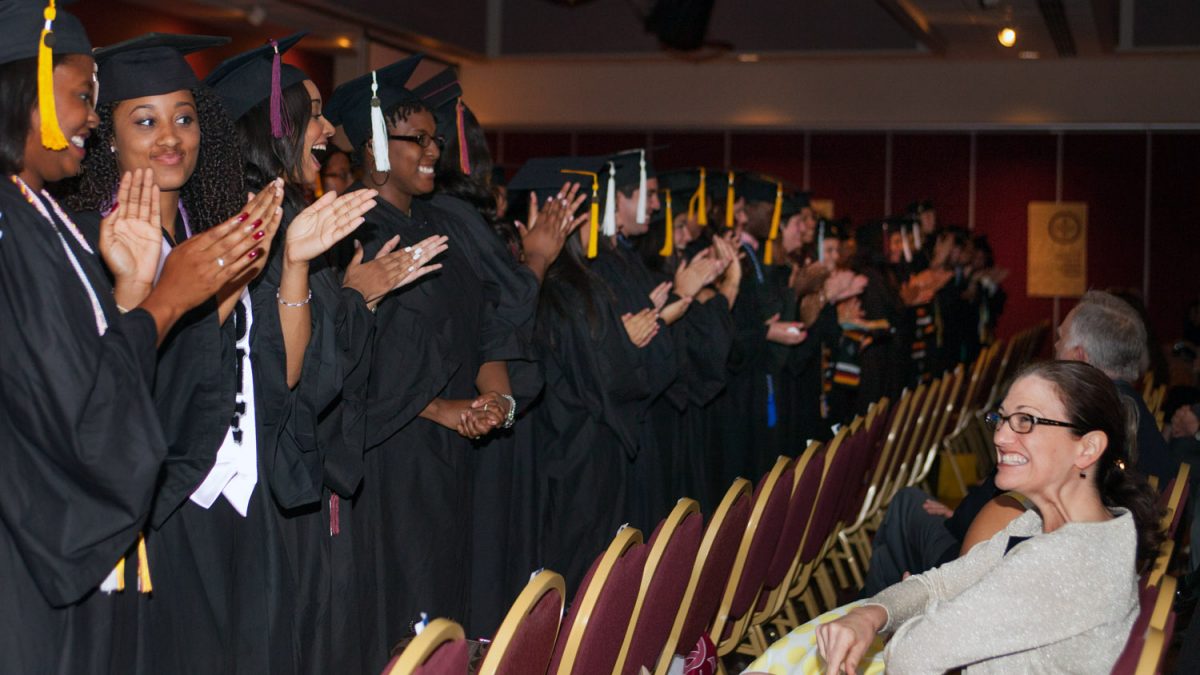 The ceremony also featured a presentation on storytelling, a bona fide art form described by Florida State alumna Susan Anderson, an elder of Creek and Cherokee traditional ceremonial communities. Anderson encouraged the graduates to remember their own stories and cultural significance in the context of the larger world.
"Let us weave the story of our future and recall our past in powerful ways that will reshape the next generation," Anderson said. "The outcome of our shared societal stories is in your very creative and powerful hands."
The ceremony hosted by the Center for Leadership & Social Change, the Center for Academic Retention & Enhancement (CARE) and the Student Government Association.