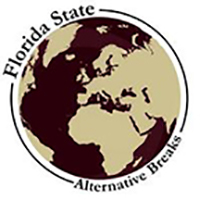 Every year, thousands of college students take advantage of spring break to relax and recharge. For the students who participate in Florida State Alternative Breaks, it is a time to serve.
This year, six Florida State University student-led teams will travel to a specific location to work with a local agency for the entire week of spring break, which is March 10-14. Trip agendas vary from providing access to clean water in the Dominican Republic to serving with a camp for children with serious illnesses outside of San Antonio, Texas.
The 41 participating students learned where they would be serving at a matching event on Jan. 11. Program Coordinator Jillian Volpe White said that the focus of these trips is the task at hand, rather than the destination.
"Our service immersion experiences are about building community and learning about the root causes of a social issue," White said. "Students select a trip based on the social issue they are serving, not where they are going. It invites a sense of adventure and commitment to a cause versus being drawn to a specific location."
This is the fourth spring break FSU senior Amy Correia has dedicated to Florida State Alternative Breaks. As a freshman, Correia found a passion for these kinds of trips while on a Florida State Alternative Breaks weekend trip to Mobile, Ala., where she worked with L'Arche, a community that serves persons with intellectual disabilities.
"After that first trip to Mobile, I wanted to create an identity surrounding service while at Florida State," Correia said. "I had never really traveled anywhere, so there was a great pull toward alternative breaks. It gave me the opportunity to plan trips and to learn how to work with other students. It has been a fantastic part of my experience at Florida State."
In her final spring break, Correia is part of a group that will work with the St. Bernard Project in Chalmette, La., which helps those affected by Hurricane Katrina.
Correia said Florida State Alternative Breaks' alcohol and drug-free policy is a positive aspect of the trips.
"Since these trips can have both freshmen and seniors, the policy makes it that they can both have the same cultural experience on that trip. It also helps us focus on the task of service, the reason we are on these trips."
Most of the trips will leave for their destinations early Saturday, March 8, and will return just in time for classes Monday, March 17. Below are the agencies the students will assist:
Children's Association for Maximum Potential, Center Point, Texas
BLUE Missions, Dominican Republic
St. Bernard Project, Chalmette, La.
Kiptopeke State Park, Cape Charles, Va.
Inter-Faith Food Shuttle, Raleigh, N.C.
Wesley Community Center, Savannah, Ga.
The Florida State Alternative Breaks program is based in FSU's Center for Leadership & Social Change and is a part of Break Away, a national organization dedicated to training, assisting and connecting campuses and communities to promote quality programs that inspire lifelong active citizenship.
To learn more about Florida State Alternative Breaks, visitFlorida State Alternative Breaks online. The site features descriptions of this year's trips and an interactive map that provides information on previous trips.