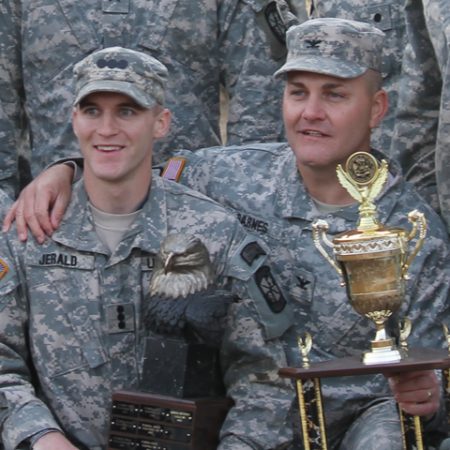 Florida State University's Army ROTC program claimed first place out of 48 teams from throughout the southeastern United States that competed in the Army ROTC Ranger Challenge, held at Camp Blanding, Fla., near Jacksonville.
The grueling two-day event, which took place Jan. 25-26, covered 18 miles and featured eight events interspersed throughout the competition: rifle marksmanship; a hand grenade assault course; land navigation; a foot march; a patrol boat race; an obstacle course; a river crossing; and the Commander's Challenge (a secret, surprise event).
During the competition, teams run the route for time and are timed and scored at each station along the race route. Of the two teams it fielded, FSU's first team finished in second place in 2013, but came back this year to secure the Commander's Trophy for the third time in four years. The university's second team finished in 21st place this year.
The second- and third-place schools in the Army ROTC Ranger Challenge were Georgia Southern University (last year's winner) and the University of Mississippi.
The teams participating in the Fort Blanding competition represented the 6th Brigade, which is headquartered in Savannah, Ga., and is responsible for all Army ROTC programs in Florida, Georgia, Alabama, Mississippi, Louisiana and Puerto Rico. Each team consists of a nine-person squad, with one female participant on each team.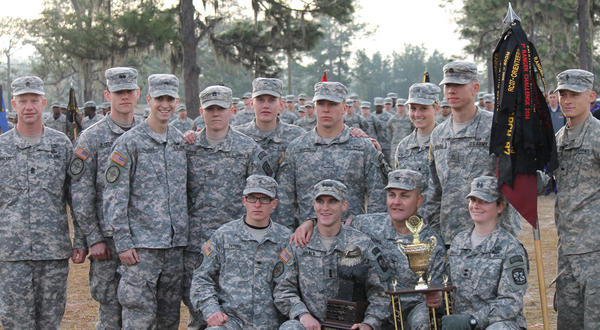 As a result of its victory, FSU will represent the 6th Brigade and all 39 schools in the Southeast region at the upcoming Sandhurst competition, taking place at the United States Military Academy in West Point, N.Y., in April 2014. Sandhurst is an international event pitting 58 teams in a variety of tasks aimed at testing participants both physically and mentally. Each of Cadet Command's eight brigade Ranger Challenge winners are among those in the field, as well as squads from the United States Military Academy, the Air Force Academy, South Korea, Canada, Brazil, Great Britain and Australia.
"The significance of this victory is that is solidifies FSU as a dominant player in the Ranger Challenge event series, winning three of the past four years and coming in second last year," said Army Lt. Col. Clinton D. Alexander, director of Florida State's Army ROTC program. "It is the equivalent of winning the ACC and SEC championship combined and playing for a shot at the national title, held at West Point."