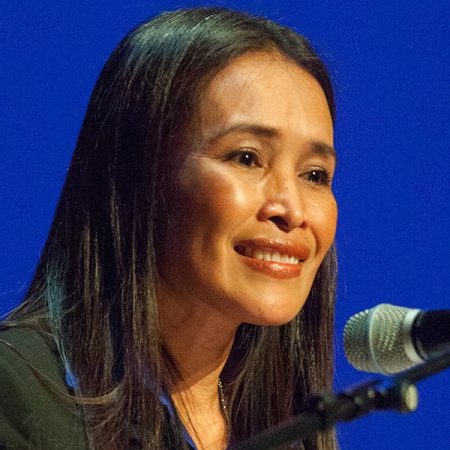 In harmony with the enduring vision of Martin Luther King Jr., human rights activist Somaly Mam shared her dream to end human trafficking and modern-day slavery during her keynote speech at the 26th Annual MLK Week Commemorative Celebration.
Cambodian-born Mam revealed her story of surviving sex slavery to Florida State University students, staff and faculty, as well as community members who gathered in Ruby Diamond Concert Hall on Jan. 21 to honor the life and legacy of King. The event was sponsored by the Golden Tribe Lecture Series and Student Government Association.
"What I kept all my life was silence," Mam said. "I fight today for voice."
As the co-founder of the Somaly Mam Foundation, a nonprofit organization dedicated to the eradication of sex slavery and the empowerment of its survivors, Mam has devoted her life's mission to saving other victimized women and sharing unconditional love.
"My goal is to empower victims to be survivors, and to encourage survivors to become advocates," Mam said.
Mam spoke with poise, addressing the students in attendance directly, advising them to use their degrees for good and to act to make real change by changing the minds of intolerant people.
"I always wanted to go to school," Mam said. "I just want to tell you how lucky you are."
Mam ended her speech reiterating King's poignant advice of turning love into action.
The evening began with a heartrending video montage that featured clips from King's final speech "I've Been to the Mountaintop" and messages from student activists who acknowledged their advocacy for minority groups.
"Tonight is not the end of our movement," said Jorge Rendon, treasurer for the Hispanic Latino Student Union, as he opened the ceremony.
With each speaker who took the stage, messages of continuing the efforts to act against discrimination and intolerance were passionately echoed.
"We can't afford to decide that we've made enough progress, or to tire or give up," said FSU President Eric J. Barron. "Leaders such as Somaly Mam understand. They don't give up. They believe that a better day is possible and then they make it happen."
The event also included moving performances by the Acaphiliacs a cappella group, the FSU Gospel Choir and an emotional dance piece by student Ronderrick Mitchell of the FSU School of Dance.
Professor Penny Ralston, dean emeritus and director of the College of Human Sciences, was awarded the 2014 Dr. Martin Luther King Jr. Distinguished Service Award. Students Natasia Kennedy, Mary-Carson Mitchell, Jena Zander, Mara Burnside, Sainte-Fanie Jean-Baptiste and Deonne Francis were recognized with the 2014 Book Stipend Award.
Laura Osteen, director of FSU's Center for Leadership & Social Change, closed the ceremony proposing a challenge.
"I challenge us to recognize and claim our power to listen in order to understand the struggles of others in our world," Osteen said. "Recognize and claim the power to speak out and give courage and strength and comfort to others, the power to act outside of any false boundaries of authority, age or appropriateness. It is your choice today to use your voice for action."