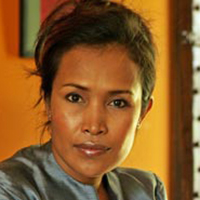 Paying homage to the late Martin Luther King Jr., Florida State University will host its 26thAnnual MLK Week beginning Monday, Jan. 13, through Tuesday, Jan. 21. With resounding messages of social justice and civil rights, the weeklong celebration will include activities and events inspired by the theme "The Movement Starts Here: From Voice to Action."
Headlining the program of events is the Commemorative Celebration with keynote address by Cambodian human rights activist Somaly Mam.
Mam, recognized for her strength and courage in escaping sex slavery in her home country, has been honored as a CNN Hero, one of Fortune magazine's most powerful women and one of TIME magazine's most influential people.
In addition to the address by Mam, the winners of the MLK Book Stipend Awards and the MLK Distinguished Service Award will be announced, and various student groups will perform. Sponsored by the Student Government Association and the Golden Tribe Lecture Series, the free event is open to the public, but priority admission will be given to Florida State students with a valid ID. The event will take place:
TUESDAY, JAN. 21
7 P.M.
(DOORS OPEN AT 6 P.M.)
RUBY DIAMOND CONCERT HALL
WESTCOTT BUILDING, 222 S. COPELAND ST.
The Commemorative Celebration will be preceded by a "Dinner Dialogue" at 5 p.m., hosted by the Center for Leadership and Social Change and the Seminole Torchbearers. This event will allow students, staff, faculty and alumni to interact with Mam during an informal dinner. An RSVP is required as space is limited.
The entire week will serve to bring together the Tallahassee community to reflect upon the life and legacy of King, with the goal of better understanding our own responsibility to speak up and take action. Throughout the week there will also be opportunities to participate in community service beyond the following events, which are free unless otherwise noted and open to the public:
Monday, Jan. 13
FSU NAACP Freedom March, 11 a.m.:Beginning at the FSU Integration Statue, the march will serve to symbolize solidarity and allow participants to reflect on the marches of the civil rights movement as they travel through campus to the Unconquered Statue.
Oratorical Contest, 7 p.m., Student Services Building, Room 203:Sponsored by the Iota Delta Chapter of Alpha Phi Alpha Fraternity, FSU students are invited to create and present a speech for an audience and a panel of judges for prizes. Students who wish to participate may email jef09c@my.fsu.edu for more information.
Tuesday, Jan. 14
The Art of Social Justice Exhibit, 6 p.m.,Oglesby Union Gallery, 2ndFloor:Visit an exhibit displaying original student and community artwork inspired by King's legacy, symbolizing past and present movements against social injustice. The reception will feature live poetry, spoken word and an artist meet and greet. Light refreshments will be served. Sponsored by the Black Graduate Student Association.
Pride General Body Meeting,8 p.m., Student Services Building, Room 203:Learn the various identities of the LGBTQ+ community and how to become involved with Pride on campus. Sponsored by the Pride Student Union.
Wednesday, Jan. 15
What's Your Movement?, 11 a.m.-2 p.m.,Union Green:Students and faculty are welcome to take a moment to record a message for a video that will be presented during the Commemorative Celebration on Jan. 21.
Thursday, Jan. 16
Black Student Union General Body Meeting,7 p.m., University Ballroom:Join the Black Student Union for an interactive General Body Meeting geared toward unity and King's legacy. Refreshments will be served.
Friday, Jan. 17
Black Film Festival, 7 p.m., Student Life Cinema:FSU's Black Student Union presents the second annual Black Film Festival, celebrating African-American cinema. The festival highlights films from emerging independent filmmakers that reinforce positive images and dispel negative stereotypes of black culture. Award-winning student productions from the College of Motion Picture Arts will be viewed and discussed with faculty and students.
Sunday, Jan. 19
Peace Jam 5K, Registration 8:30 a.m., Integration Statue:Peace Jam Southeast presents the MLK 5K in honor of Martin Luther King Jr.'s vision to end racism and hatred. The run, beginning at 9:30 a.m., will benefit Leon County students with scholarships to attend the 2014 Peace Jam Conference. Register here. Cost is $15 per participant. Email qrd12@my.fsu.edu for more information.