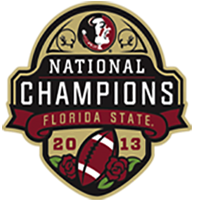 The National Champion FSU football team will hold its official celebration of the Bowl Championship Seriestitle at noon on Saturday, Feb. 1, inside Doak Campbell Stadium.
The event is free, open to all and will conclude no later than 2 p.m. Stadium gates will open at 11 a.m. and Seminole Village on Langford Green will be open at 9 a.m.
Following the celebration of the 2013 BCS National Championship, fans will be invited on to the field to congratulate the players personally for their undefeated run to the national title. The meet-and-greet with the team will follow the formal program. While on the field, fans will be asked to refrain from seeking autographs so the players have the chance to meet and talk with as many of the team's supporters as possible.
Numerous activities are on tap leading up to the in-stadium celebration. From 9 to 11 a.m. fans will be able to have their photo taken with the Dr. Pepper Coaches' Trophy on Langford Green. They can also visit the Indoor Practice Facility and check out where the Seminoles train. It will also be the only chance for fans to see the turf from FSU's road wins at Florida, the ACC Championship and the piece taken by Telvin Smith at the Rose Bowl on display in caskets at the Sod Cemetery before they are buried.
Following the event, 20,000 free commemorative posters will be given to fans in attendance as they exit the celebration.
Parking is free. Fans are asked to enter Doak Campbell through Gates B, C, D, F, G or X on the south side of the stadium by the Seminole Sport Shop and Unconquered statue.
The normal bag policy for home games will be in effect, which limits bags to a size of 6x12x12. The Moore Center will not be open so the best way to see the National Championship Trophy up close and personal will be on Langford Green or during the official celebration.
The celebration will conclude with plenty of time for fans to attend the Seminoles' men's basketball game versus Clemson in the Civic Center at 3 p.m.
Relive key moments of the football team's undefeated season on seminoles.com.