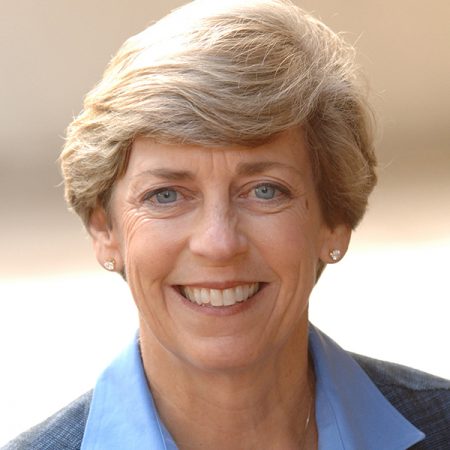 Mary Coburn, vice president for Student Affairs at Florida State University, was named the 2013 recipient of the Ross Oglesby Award during the Alumni Association's annual Homecoming Awards Breakfast Saturday, Nov. 16.
The award, which originated in 1973, is given each year to a Florida State faculty or staff member who has, for 10 years or more, exemplified the highest order of integrity, service and commitment to students and the university.
The hallmark of Coburn's career has been her passionate focus on student success and well-being. During the past four years, she has been the driving force behind the university-wide Uphold the Garnet & Gold campaign, which emphasizes respect for the dignity and worth of each person.
"Dr. Coburn has generously given of herself and continues to be a dedicated and compassionate administrator whose life is dedicated to student service," said William Woodyard, research associate in legal studies and real estate in the Florida State College of Business and 2006 Oglesby Award recipient. "She is consistently one of the first persons to arrive on campus in the morning and the last to leave in the evening. She works tirelessly on the advancement of student servicesand is a role model for all of us."
One of Woodyard's students, College of Business junior Micah Biana, echoed his praise of Coburn.
"I see her at every event I attend," Biana said. "Hercommitment tostudent organizationson campus is evidentin her involvement."
As vice president, Coburn leads more than 1,000 employees in the Division of Student Affairs, which includes numerous areas, from Campus Recreation and the Dean of Students Department to University Health Services and University Housing.
A three-time Florida State alumna, Coburn earned a bachelor's in sociology in 1974, a master's in counseling and human systems in 1976 and a doctorate in higher education in 1992.
Coburn began her teaching career at Bainbridge Junior College in Georgia, where she served as a counselor from 1976 to 1979. She then came to Florida State where she served as director of student development programs from 1981 to 1982, assistant dean of students and director of the orientation center, 1982 to 1994, and associate dean of students from 1994 to 1995. That year, she left Florida State to become vice president for student affairs at Tallahassee Community College. She returned to Florida State in January 2003 to her current position.
Coburn's leadership in the profession on a national level includes serving as national co-chair of the Association of Public and Land-Grant Universities' Council on Student Affairs. She also serves as the National Association of Student Personnel Administrators (NASPA) faculty and program director of the Institute for Aspiring Senior Student Affairs Officers as well as 2011 National Conference chair. At Florida State, she serves as director of the Hardee Center for Leadership and Ethics in Education.