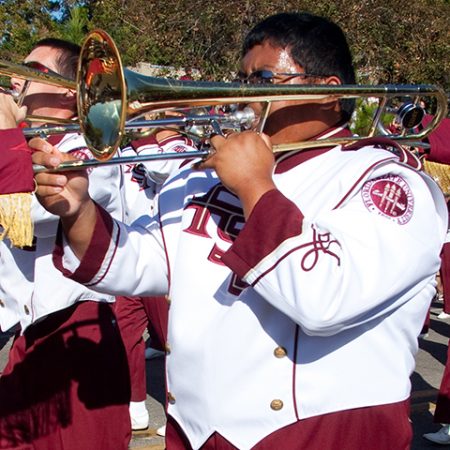 A gridiron matchup with the Syracuse Orange is the highlight of Florida State University's 2013 Homecoming celebration, "A Legendary Spirit," now through Saturday, Nov. 16, but there are many events planned for students, alumni and the entire Tallahassee community to enjoy.
"Homecoming 2013 is an exciting opportunity to bring the university and Tallahassee communities together to celebrate the legendary spirit of Florida State. We hope everyone will join us in the celebration," said Allison Black, assistant director for Homecoming and Event Planning, Florida State University Oglesby Union.
The Florida State Seminoles, national champion hopefuls, play the Syracuse Orange at 3:30 p.m. Saturday, Nov. 16, at Doak S. Campbell Stadium.
Here's a look at other key Homecoming events:
FRIDAY, NOV. 15
The Homecoming Parade will begin at 2 p.m. from the Donald L. Tucker Civic Center. From there, it will proceed north along Martin Luther King Boulevard, turn west along College Avenue, and turn south onto Copeland Street.The Alumni Association Homecoming Parade faculty grand marshal will be College of Criminology and Criminal Justice Assistant Professor Billy Close, and the Alumni Association Homecoming Parade grand marshal will be former Florida State Head Football Coach Bobby Bowden.
The parade will be webcast at www.alumni.fsu.edu/community/parade for those unable to attend.
Pow Wow, a pep rally held the night before the Homecoming football game, will take place at 8 p.m. at the Donald L. Tucker Civic Center. Doors open at 7 p.m. Comedian Nick Offerman of NBC's "Parks and Recreation" will headline the show. Comedian Retta (Marietta Sirleaf) also will perform. In addition, there will be performances by the FSU Cheerleaders, the Golden Girls, the Marching Chiefs and members of the Flying High Circus.
Tickets can be purchased at the Civic Center and from Ticketmaster. Tickets for the general public, on sale through Ticketmaster, are $24 in advance plus service fees and $26 plus service fees the day of the show. The event is free for Florida State students with a valid Gold FSU ID at the door. A two-can donation to benefit local food banks is suggested.
SATURDAY, NOV. 16
The FSU Alumni Association Homecoming Awards Breakfast will begin at 9 a.m. in the Alumni Center Grand Ballroom (doors open at 8:30 a.m.). The deadline to buy tickets for this event was Nov. 8.
The event will feature the formal recognition of former Florida State Head Football Coach Bobby Bowden who is this year's Homecoming Parade grand marshal, and the first public appearance of the newly crowned Homecoming chief and princess.
"It's an important responsibility of an alumni association to recognize the accomplishments of its graduates. I could not be more thrilled about the line-up of awardees this Homecoming. We are incredibly proud," said FSU Alumni Association President Scott Atwell.
In addition, the Homecoming Awards Breakfast will formally recognize and celebrate the recipient of the Bernard F. Sliger Award, chosen by the Alumni Association; the recipient of the Alumni Award for Distinguished Writing, chosen and presented by the Friends of the FSU Libraries; and the Grads Made Good, chosen and co-presented by FSU's Circle of Omicron Delta Kappa National Leadership Honor Society and the Alumni Association.
What's more, the student-run Garnet and Gold Key leadership honor society will present the Ross Oglesby Award to a faculty or staff member with 10 or more years of exemplary service to students and the university. While the identity of the Ross Oglesby Award recipient is always kept secret (even from the recipient) until it is announced, the names of the other Homecoming honorees are disclosed in advance.
This year's award recipients are:
Alumni Association's Bernard F. Sliger Award
University Trustee William "Andy" Haggard, a prominent South Florida attorney, is the recipient of the Bernard F. Sliger Award. Named for Florida State's 10th president, it recognizes a member of the university community who has made a major contribution to the fulfillment of its mission.
A former judge advocate in the U.S. Air Force, Haggard was the youngest military judge ever selected in the field of trial litigation. Today, he is a senior partner and attorney at the Haggard Law Firm P.A. in Coral Gables, Fla., where he practices with his son, Mike Haggard, and son-in-law, Doug McCarron. Haggard earned Bachelor of Arts degree from Florida State in 1964 and a Juris Doctor from Mercer University in 1967. His work in law includes being a speaker in continuing education for trial techniques and a member of the Million-Dollar Advocates Forum for his success in winning million-dollar-plus verdicts and settlements. He also has consistently been named to the Best Lawyers in America.
Haggard is a member of the FSU Alumni Association Circle of Gold. In addition to serving on the university Board of Trustees, he has served on presidential search committees at Florida State. He has been a commissioner of the Florida Commission on Ethics and a former chair of Seminole Boosters. In 2008, he was inducted into the FSU Athletics Hall of Fame as a Moore-Stone Award recipient, in part due to his tireless support of FSU Athletics, including the endowment of a scholarship and leading the fundraising efforts for the Dick Howser Stadium expansion. The entryway of the stadium is named Haggard Plaza for his family's contributions.
Alumni Award for Distinguished Writing
American composer Ellen Taaffe Zwilich, a professor at the Florida State University College of Music, is the recipient of the Alumni Award for Distinguished Writing.
Zwilich, the first female composer to win the Pulitzer Prize for Music, earned a Bachelor of Music degree from Florida State in 1960 as a violinist before becoming the first woman to earn a Doctor of Musical Arts in composition from The Juilliard School. Zwilich's works have been performed by most of America's leading orchestras as well as major ensembles abroad, including the New York Philharmonic, which commissioned her orchestral essay "Symbolon" for its world premiere in Leningrad. Her composition, "Peanuts Gallery," a tribute to the Charles M. Schulz comic strip "Peanuts," was broadcast on PBS in 2006.
The Francis Eppes Distinguished Professor at FSU, Zwilich has received numerous accolades for her works. In addition to the Pulitzer Prize, she has received the Elizabeth Sprague Coolidge Chamber Music Prize; an Academy Award from the American Academy of Arts and Letters; a Guggenheim Foundation Fellowship; and four Grammy nominations. She was the first artist to hold the Debs Composer's Chair at Carnegie Hall. In addition, she holds numerous honorary doctoral degrees.
Grads Made Good
Grads Made Good are Florida State University alumni who have achieved outstanding success in their fields. This year, three such alumni have been chosen:
Judy Bense, president of the University of West Florida, is a well-respected archaeologist and academic who has shaped Florida's landscape in her area of expertise. During her more than 30-year career at the University of West Florida, Bense founded its program of anthropology and archeology, and also established the Archeology Institute and the Florida Public Archeology Network. In 2008, she became president and has since overseen record enrollment increases and the development and construction of several multimillion-dollar facilities.Bense earned a Bachelor of Arts in 1967 and Master of Science in 1969 in anthropology/archeology from Florida State and a Doctor of Philosophy in the field in 1972 from Washington State University.The Independent News listed Bense at the top of the Pensacola Power List in 2012 and the Santa Rosa County Chamber of Commerce named her Woman of the Year in 2011. Her archaeological work includes leading a team in discovering one of the oldest shipwrecks found in U.S. waters, from an expedition of Spanish explorer Tristan de Luna. Internationally recognized, she was inducted into the order Isabella de Catholica by King Juan Carlos of Spain and received the Harrington Lifetime Achievement Award for Historical Archeology in 2009.
Mary Elizabeth "Meg" Crofton, president of Walt Disney Park and Resort Operations for the U.S. and France, influences travel and tourism around the world. She oversees three of the world's largest tourist destinations — the Walt Disney World Resort in Florida, the Disneyland Resort in California and Disneyland Paris — which employ 100,000 people.Crofton earned a Bachelor of Science in marketing in 1974 and a Master of Business Administration in 1975 from Florida State.An active member of the Central Florida community, Crofton has been involved with the Metro-Orlando Economic Development Commission, and was previously on the boards of the Central Florida Regional Commission on Homelessness and Orlando Health. She has served on the Rollins College board of trustees and the executive committee of the Dr. Phillips Center for the Performing Arts.
James "Jimi" Cook, a professor of orthopaedic surgery and small animal surgery and eminent scholar at the University of Missouri, not only trains veterinarians, physicians and scientists, but is also an international authority on small animal and human orthopaedic surgery.Cook earned a Bachelor of Science in mathematics in 1988 from Florida State and a Doctor of Veterinary Medicine and Doctor of Philosophy from the University of Missouri.Cook established and directs the Comparative Orthopaedic Laboratory, which made the University of Missouri a premier center for small animal surgery in the world. His work has gone well beyond animals, however, and is applied to cutting-edge research in human orthopedics. Cook's work has resulted in teaching and research awards, millions of dollars in extramural funding and major gifts, not to mention countless publications, abstracts, patents and book chapters. In addition, Cook is a founder of Be The Change Volunteers, a nonprofit organization that builds, renovates and equips schools for underprivileged communities worldwide, including in Rwanda, Cambodia, India and Papua New Guinea. He is the organization's board chairman and his wife, Cristi, is the acting treasurer. Both have lead several volunteer teams as they travel to develop these educational opportunities.
Alumni Association's 2013 Homecoming Parade Grand Marshal
Former Florida State Head Football Coach Bobby Bowden will be honored as this year's Alumni Association Homecoming Parade grand marshal. The Homecoming Parade begins at 2 p.m. Friday, Nov. 15, from the Donald L. Tucker Civic Center. From there, it proceeds north along Martin Luther King Boulevard, west along College Avenue and south along Copeland Street.
Alumni Association's 2013 Homecoming Parade Faculty Grand Marshal
Florida State College of Criminology and Criminal Justice Assistant Professor Billy Close is being honored as this year's Alumni Association Homecoming Parade faculty grand marshal. The title honors an individual who has shown exceptional commitment, leadership and service to Florida State University.
For more information visit www.homecoming.fsu.edu or www.alumni.fsu.edu.