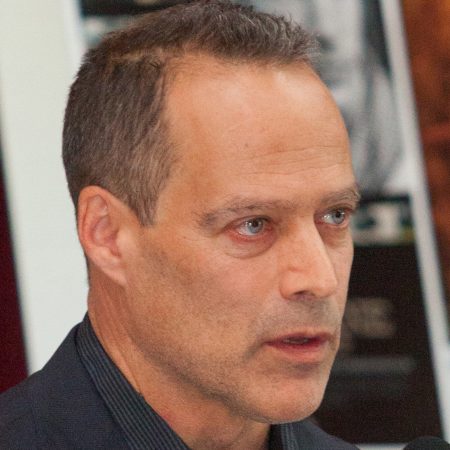 It is a testament to the quality of character and professionalism of this country's veterans that journalists have full access to combat zones, said Billy Francis, director of the Florida State University Student Veterans Center.
"It says a lot about our military that we will let reporters go into the most confusing, dangerous places with 18-, 19- and 20-year-olds," he said on Veterans Day at the third annual Student Veteran Film Festival.
That access was one of the themes celebrated Monday, Nov. 11, during the festival, an event that illuminates important issues facing returning veterans. A collaborative effort among the Collegiate Veterans Association, Interfraternity Council, Panhellenic Association, Student Government Association and College of Motion Picture Arts, this year's film festival featured award-winning author and filmmaker Sebastian Junger and his documentary film "Which Way is the Front Line from Here? The Life and Time of Tim Hetherington."
The annual festival encapsulates the shared vision and commitment by Florida State to become the most veteran-friendly university in the country. While many talk about supporting veterans, Francis said, Florida State acts.
Junger and his friend and colleague Hetherington were never asked by military command to censor footage or images recorded while they were embedded with American troops inAfghanistan's Korengal Valley in 2007 and 2008. That footage became 2010's "Restrepo," an Academy Award-nominated documentary.
Junger's HBO documentary "Which Way is the Front Line from Here?" is a look at Hetherington's career as a photojournalist. Hetherington was killed at age 40 in a mortar attack in April 2011 while covering the conflict in Libya.
Hetherington is not a member of the military, Junger said, but he and other journalists who put themselves in harm's way are often working toward a similar goal — keeping the world free from oppression.
"And they die regularly," Junger said. Which is why following Hetherington's death Junger created Reporters Instructed in Saving Colleagues, or RISC. This medical training program for freelance journalists teaches reporters in all media, free of charge, to treat life-threatening injuries on the battlefield.
In the packed Ruby Diamond Concert Hall, Frank Patterson, dean of the College of Motion Picture Arts, presented Junger with Florida State's Student Veteran Torchlight Award for Outstanding Achievement in Filmmaking, which comes with a $25,000 cash prize. The award is given annually to a selected filmmaker who illuminates issues affecting veterans. Junger announced he would donate the cash honorarium to RISC.
This training is crucial, said Florida State senior and Marine Corps veteran Ryan Taylor. While deployed in Iraq and Afghanistan, Taylor was armed with training, first aid materials and ammunition.
"Sebastian Junger and Tim Hetherington went there with a video camera," Taylor said. "I respect the sacrifice of Tim Hetherington every bit as much as I respect the sacrifice of my fallen brothers."
Master of Fine Arts student and veteran Nick Collier, who served inAfghanistan's Korengal Valley, echoed that sentiment.
"We have the opportunity to fight back," Collier said. Journalists run to the front line without weapons, he said.
"We had you guys," Junger retorted.
And those guys have no choice but to run to the front. Freelance journalists do have a choice between voluntarily reporting on the world's conflicts and staying out of harm's way. If there is ever a time we need journalists to make sense of conflict it is now, said Patterson.
There are stories worth risking your life to tell, Junger said.
"But no story is worth getting killed," he said. Within an hour of learning of his friend's death Junger decided he would no longer report on war.
The film festival featured an outdoor reception on Westcott Plaza, opening remarks from students and Patterson, the presentation of colors, Torchlight Award presentation and the film screening followed by a panel discussion with Junger, Collier and Patterson, moderated by Paul Cohen, executive director of the College of Motion Picture Arts' Torchlight Program.