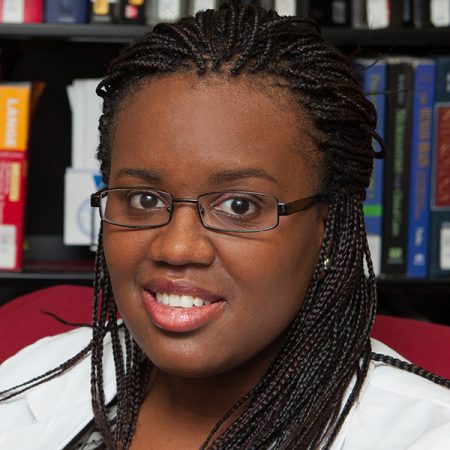 For the third time in four years, a College of Medicine student has received the prestigious Herbert W. Nickens Medical Student Scholarship.
This year's recipient is Shermeeka Hogans-Mathews, a Liberty County mother of three whose nominator praised her as "always out there on the front lines working for the greater good."
The $5,000 scholarship, given to only five students nationwide, is awarded by the Association of American Medical Colleges. It goes to outstanding third-year medical students who've led efforts to eliminate inequities in medical education and health care and demonstrated leadership in addressing minorities' educational, societal and health-care needs.
"I was in awe to have been chosen a second time for a national award," said Hogans-Mathews, 30. "During my work towards helping others overcome disparities, I never thought that my efforts would eventually lead to this recognition."
Last year she was one of 13 recipients of a 2012 Minority Scholars Award from the American Medical Association Foundation, which included a $10,000 scholarship. Her life story is compelling because of the disparities she herself has had to overcome.
She grew up in rural Liberty County the eldest of six children and became a first-generation college student. Although she's now the married mother of three sons (ages 11, 5 and 3), for a time she was both a single parent and a full-time college student, and she learned how difficult it could be to gain access to health care. Now she does what she can to make sure others gain access as well.
"Everybody in life has a purpose," said Hogans-Mathews, who is doing her third-year rotations in Thomasville, Ga., "and I feel like my purpose is to make a difference in the lives of others. That's where I get my biggest gratification in life."
In her Nickens nomination letter, Associate Dean Helen Livingston wrote: "Shermeeka has served her community by counseling teens in her church on sexual behavior and health, counseling adults about managing chronic health conditions, transporting and advocating for elderly relatives and church members, volunteering at the Veterans Village, a housing center for homeless veterans, and volunteering at a midwife clinic in her rural community. Shermeeka not only serves in her community but reaches out to her fellow students to join her in her efforts to enhance the well-being of others."
Before medical school, she was a science teacher at West Gadsden High School in Greensboro. Among other things, she started a STEM (science, technology, engineering and math) program there, and she helped connect her students with a pipeline program at the College of Medicine for would-be physicians. "I saw so much potential in the students," she said. "I was trying to unlock it and bring the students to the realization that they could be whatever they wanted to be. The only person that can hold you back is yourself."
Hogans-Mathews attributes much of her success to her faith in God and to the assistance of her husband, Marcus Mathews, and her parents, Dallas and Patricia Hogans. "Thirty years out of high school, after raising six children, my mom has gone back to school and is working on her associate degree at Tallahassee Community College," she said. "Dreams can always come true with hard work."
She hopes to practice primary care in a rural underserved area – maybe in her hometown of Bristol, or in nearby Jackson County or Gadsden County. "Wherever Shermeeka is," Livingston wrote, "she will always be looking for a way to improve the world around her."
The award presentation is scheduled for Monday in Philadelphia, during the AAMC's annual meeting. The two previous Nickens recipients from the College of Medicine were Brett Thomas in 2012 and Noemí LeFranc in 2010.