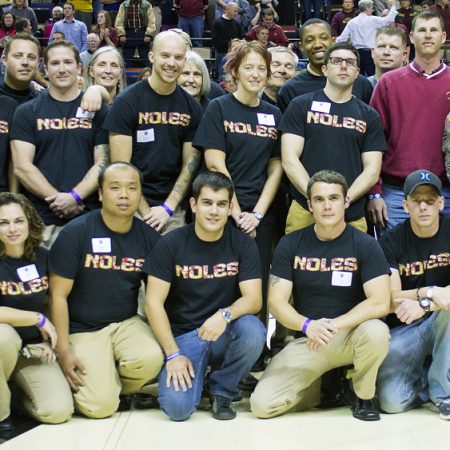 Members of the local National Guard and Army Reserve, along with Florida State University student-veterans, were honored during a halftime recognition event at the Florida State basketball game against Clemson on the evening of Jan. 24.
The ceremony took place at center court, where two-dozen active-duty and veteran military personnel gathered to receive a sustained standing ovation from the fans.
Ryan Taylor, president of the Florida State chapter of the Collegiate Veterans Association, said the appreciation expressed by the crowd was genuinely moving.
"It really means a lot every time fans and community members acknowledge those who have served," Taylor said.
Joining the student veterans at midcourt were Florida State President Eric J. Barron and first lady Molly Barron. Also in attendance were two career Air Force veterans who now serve in administrative positions at Florida State — Athletics Director Randy Spetman and Student Veterans Center Director Billy Francis.
"I've been fortunate enough to attend three Military Appreciation games since coming to FSU, and they're always great," Taylor said. "What's also great is that Florida State is undefeated in those games. I'm just sayin'."